Frequently Asked Questions (FAQ)
Do you have a question about IDX Broker or RealtyCandy services? Are you wondering how to use our IDX Addons? Have any questions about what we could do for your real estate site? You're not alone, but we have the answers.
Here are the most frequently asked questions we receive. Please contact us if you don't see your question here.
Questions about
Realty Candy
We offer integrations for IDX Broker and existing websites called IDX Connect. If you have a website already that you want to integrate with IDX Broker, this is the service you're looking for.
PureIDX sites designed for IDX Broker: available for all of our clients on https://idxaddons.com/
We also offer Simply IDX sites, where you can select the design you like, let us set it up for you, and integrate your IDX Broker account. Then, all you have to do is add your content. You can see more info about our Simply IDX sites here.
We have a WordPress Hosting service, included with the Simply IDX sign-up package. Our hosting includes Daily Backups, Security Scans, WordPress Updates, Weekly Theme, and Plugins Updates, RealtyCandy Support, SSL Security certificates, 10 GB of Storage, 25,000 Monthly visitors, Administrator Access, and more! (If you prefer to host your site elsewhere and still sign up with us for Simply IDX, that is also an option.)
We also do IDX Broker Customizations, so you can have unique tools for your website that take full advantage of what IDX Broker has to offer.
We also offer our "free apps", such as:
IDX Addons: this is a website we made for our clients to get more out of IDX Broker with our tools like Speedy IDX Widgets, Text Alerts, Returning Visitor Alerts, Nearby Listings, Data Graphs, Mailchimp Integration, and more!
Our Premium IDX Templates for IDX Broker pages: use RealtyCandy as your IDX Broker developer to get access to all our templates for FREE.
Our Simply IDX 3.0 WordPress Theme for real estate websites: download for FREE on https://idxaddons.com/
You can read up on what we offer here.
Questions about
Realty Candy Templates
To get any of our premium templates for your IDX pages, all you have to do is to make us your IDX Broker developer. This process is fast and FREE.
Just send an email to IDX Broker that says you'd like to use Realty Candy as your developer or sign up for your IDX Broker account using our sign-up form.
Your payments with IDX Broker will continue as they are, directly to IDX Broker. You will also have access to IDXAddons.com at no charge.
Contact us here if you have any questions about this process!
Questions about
Realty Candy's IDX Add-ons
First, you need to add an HTML block. Set it to "full width" and approximately 200px-250px for the height, then check the option "code" and add this code below, replacing the code with the code generated for you on https://idxaddons.com/?page=apps&sub=omnisearch:
<!DOCTYPE html>
<html lang="en">
<head>
<meta charset="UTF-8" />
</head>
<body>

SCRIPT_HERE

</body>
</html>
After you save it, don't forget to check the mobile version, and adapt its height accordingly.
PureIDX Lite is a cloud-based website that we offer for all of our clients with a simple setup. You pay only $99/year to have it, with FREE Setup. It is a totally mobile-responsive real estate website designed to work exclusively with IDX Broker. It has 2 templates available with limited customizations on the layout, but hosting is free for life.
You can check examples of websites build using PureIDX on our PureIDX Portfolio page.
We also offer a PureIDX Pro template for just $99 for setup + $99/year with its own unique design that adds the ability to create additional custom pages to PureIDX.
PureIDX is intended for single realtors or agencies that want a fast, simple website. If you only need a home page, and most of the other pages will be IDX Broker pages anyway, PureIDX is for you!
To have a PureIDX Lite you pay $99/year.
PureIDX Pro is $99 setup + $99 per year for hosting.
To get PureIDX you pay $99/year and it includes the website hosting, SSL certificate, IDXAddons access, Custom Subdomain setup, IDX Connect, IDX Premium Templates, Priority Email Support, and two template options with limited customizations.
PureIDX Pro for $99 + $99/year includes the website hosting, SSL certificate, IDXAddons access, Custom Subdomain setup, a FREE IDX Connect, IDX Premium Templates, Priority Email Support, and one template option with the ability to add custom pages.
Questions about
IDX Broker
IDX is an acronym that stands for "Internet Data Exchange" and is also known as Broker Reciprocity.
IDX Broker is a vendor for listing data that allows agents and brokers to access and display listing information from various MLS on their real estate websites. The term "IDX" refers to the software, rules, and regulations which allow MLS data to show on your site. This data feed typically encompasses the listing data for properties entered into the MLS system, while IDX rules may determine where, what, and how it is displayed. If your MLS provides access to this data feed, you may use it to promote all eligible listings on your website, not just your featured listings.
IDX Broker is engineered to collect, organize, and maintain your local MLS listings, allowing you to seamlessly display all MLS properties on your real estate site.
IDX works by establishing a data connection between your website and your MLS or IDX provider, importing listings, displaying them on your front-end, and running updates. Because IDX refers to any transfer of real estate data, the specifics of how it works depend on the type of IDX technology used.
This is a simple explanation of the process to set up IDX for your website.
First, go to http://platinum.realtycandy.com and signup for an IDX Broker account (when you use that link, they will waive their $99 account creation fee.)
IDX Broker will send the paperwork that you need to sign or have your broker sign.
Once you get that done and send it back to IDX Broker, they will forward all of the documents to your MLS for approval.
After the MLS approves your account, IDX Broker will send you (and us) an email.
We will need you to click on the signup button on this page to hire us to set up your IDX feed to your site.
We will also need you to send your site admin access and IDX Broker login details to our email address.
Once we have your IDX account active, your payment, and your credentials, we just need one business day to get IDX Broker set up on your website.
Studies show that most visitors to real estate websites want to see properties. Having information about your company and your experience is important, but the truth is visitors to your real estate website want to see properties.
You can show your own current listings using IDX Broker. This is a great option for teams and offices with at least 25-50 listings that provide enough interest to keep visitors engaged.
If you want the listings you show on your site to auto-update and show all of the current active properties in your MLS or market area, then IDX Broker is an easy way to showcase all of those properties.
Not only will you be able to use IDX Broker to showcase specific listings, but it can also help capture new leads and nurture existing clients.
You can even set up automatic updates, so your clients will know when new properties are available.
There are many more benefits to using IDX Broker that can help build your real estate business. Set up a free Zoom meeting with one of our team members, or give us a call to find out how we can help you grow your real estate business!
IDX Broker offers two plans:
The IDX Broker ™ Lite plans start at $50/monthly for a single agent, $70/monthly for a team plan, or $100/monthly for an office plan.
The IDX Broker ™ Platinum plans start at $80/monthly for a single agent, $100/monthly for a team plan, or $130/monthly for an office plan.
They also offer the ability to add multiple MLS to one IDX Broker account.
You can check all updated features available on each plan on IDX Broker Plans & Pricing page.
The wrapper is just a page on your website for platforms like WordPress or Squarespace (or, for Wix websites it is a page on our servers) that will be used as a base for IDX Broker pages. IDX Broker pages are styled by taking the information on that specific wrapper page, including the styles for the header, the footer, and CSS classes to style titles and texts, and fonts.
Did you make changes to your website and then when you go see your IDX pages, they showed up with a broken aspect?
Or did you do a website change and it is taking hours for IDX to update your pages with the changes?
These are common problems our clients at Realty Candy face, and fixing this is very quick. You just need to clear your IDX Broker Wrapper Cache.
Check the video to see how to do it.
You can get any of the IDX Broker default links at Design > Website > Page Templates and copy the link for your site.
On your Wix website, click on the side icon "Menus and Pages" and then on the "Add a Link" icon.
Check the "Web Address" option and paste the URL you copied before, if you want you can make it open on the same page (tab) your link is by checking the "Current Window" option.
Type the name you want to appear on the menu, and Publish your changes.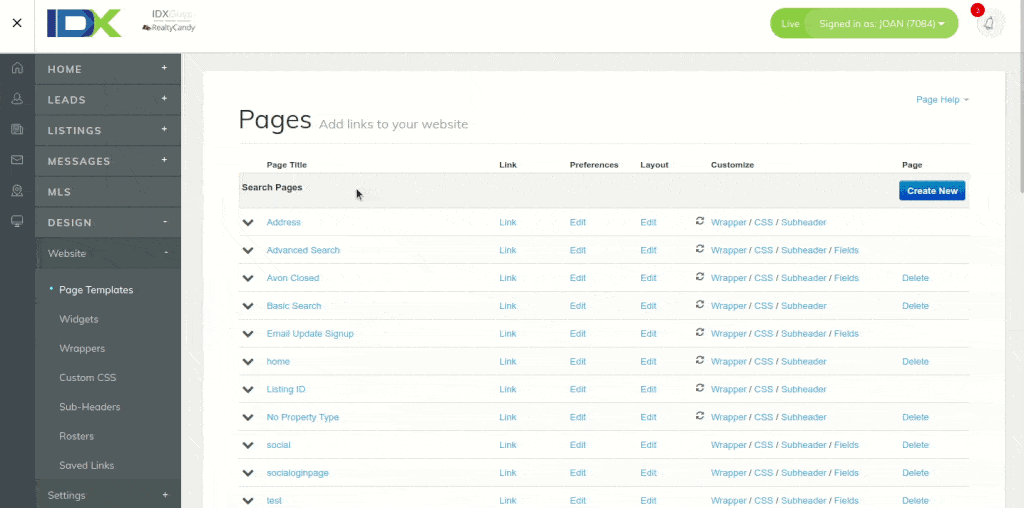 If we want to block some IDX Broker pages from showing up in Google, IDX Broker recommends that on the wrapper of the page you want to block, you set it to "noindex", then that should be applicable to the page as well.
That would keep the pages from indexing or showing in SERP or search engine results.