How to Create a Saved Link in IDX Broker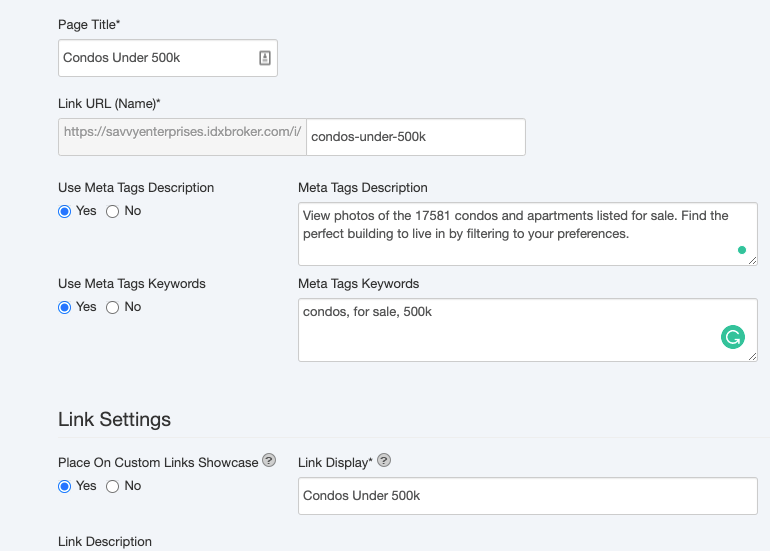 What is a Saved Link?
A saved link is a tool in IDX Broker that allows users to showcase listings from specific areas or property types on a professional, modern Results page template.
We can also filter properties by price range or any other search criteria available in the IDX Broker Advanced Search for your MLS. 
IDX Broker Saved Links are ideal to create simple and effective community pages that you can link directly from your website. You can also share them with your leads.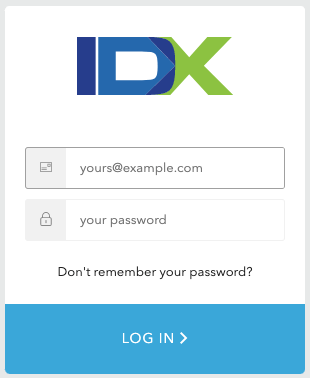 How Do I Create a Saved Link in IDX Broker?
First, to create IDX Broker content, you need to log in to your IDX Broker account.
Now you are on the IDX Broker Dashboard. From here, navigate to Design>Website>Saved Links.
On this page, you will be able to create, edit and delete your Links.
To create a new one, just click on the CREATE LINK button located at the top-right:

In this post, we are going to create a link to display Condos under 500K.
Step 1 – Pick a Search Page
The first step after clicking the CREATE LINK button is to choose the kind of search you want to do. The options are: Address, Advanced Search, Basic Search, Email Update Signup, Listing ID, Polygon, Map Search, and Custom.
Next in this example, we're going to select the Advanced Search option and click the Next Step button: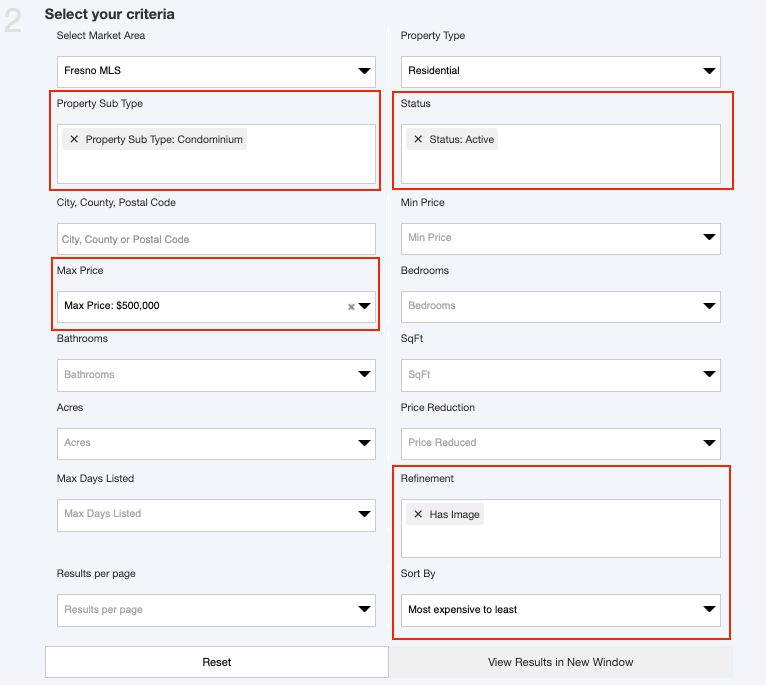 NOTE: The name and the values of these fields could be different in your MLS area.
We recommend you click on the "View Results in New Window" button, to make sure you are getting the results you are expecting for each Link.
Please click the "Next Step" button when you are done adding your search criteria.
Step 2 – IDX Broker Search Criteria
In this step, you have to enter the search criteria you want to use. For our example, the search criteria we are going to use is:
Property Type = Residential
Property Sub Type = Condominium
Status = Active
Max Price = $500,000
Refinement = Has Image (this is optional but it would be good to have images in all our listings)
Sort By = Most expensive to least (also optional)
Step 3 – Saved Link SEO Settings
Now you have to name your link and configure some SEO fields to make it SEO-friendly. This way, your leads will read proper information when you share the URL.
Only the "Page Title" and "Link URL (Name)" are mandatory. The rest of the fields are optional, but filling in those fields provides more information to your leads.
You will also find a Sub-header section below the SEO settings. In this Sub-header section, you can add any text or an image you want to include in your Saved Link. Next for this example, we'll add the title, "Condos Under 500K".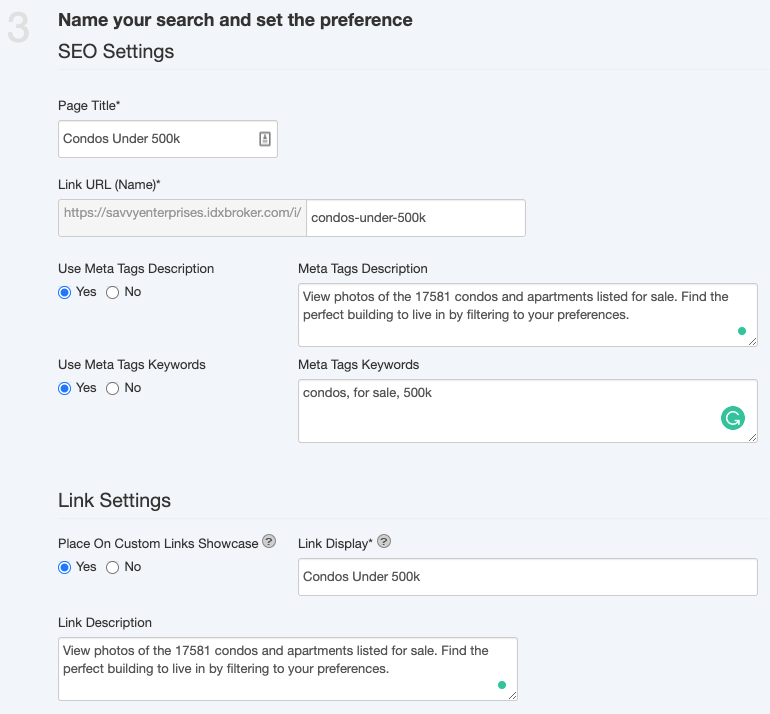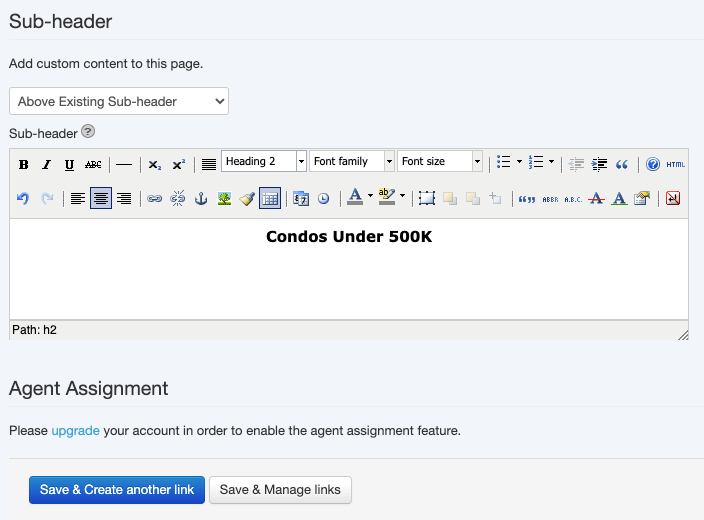 How to use IDX Broker Saved Links on my site?
There are several options for you to work with your new IDX Broker Saved Link. One options is to share the URL with your clients or leads, as we did a few lines ago in this article. You can also use it on your website navigation menu, but regular text links and images are good options, too.
Website Content
Using your website content (text or images) to link your IDX Broker Saved Link is a great method. You only have to enter the URL of your saved link in the URL field.
The process will be different on each editor, but the main idea is to add an image or some text and use the link tool to configure the URL of your Link on it.
For example, this is a text link: Condos Under 500K
This is an image link: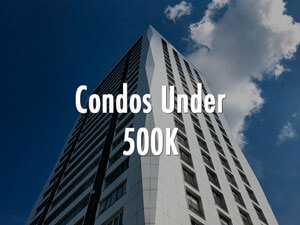 Direct Link
You can share the URL of your Links with your leads via email, text message, or social networks. All you have to do is copy and paste the URL. For example, this is the URL for the Saved Link we created in this article: https://savvyenterprises.idxbroker.com/i/condos-under-500k.
Website Navigation Menu
Adding your Links to your navigation menu is one of the most common ways to share them with your website visitors.
How can you do that? It will depend on the platform or CMS you used to build your website.
Below, let's see some examples:
WordPress
You need to go to Appearance->Menu, then select the option Custom Links, paste the URL, type some Link Text, and click on the "Add to Menu" button.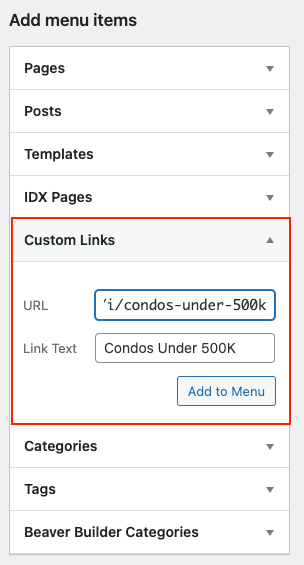 What is the difference between a Saved Link and a Widget?
A Saved Link is a full page that borrows the styling from your Results Template, but a Widget is an HTML code you can insert on any custom page. 
Click here to learn more about creating an IDX Broker widget.
How do I customize the style of my Saved Links in IDX Broker?
Your Saved Links in IDX Broker use the same styling as your Results pages. You have the option to change the template for any of your IDX Broker pages by using the Layout column of the Pages section in the IDX Broker Dashboard.
Check out our Saved Link Generator Addon to create more of these links in bulk, available for free to all RealtyCandy clients.