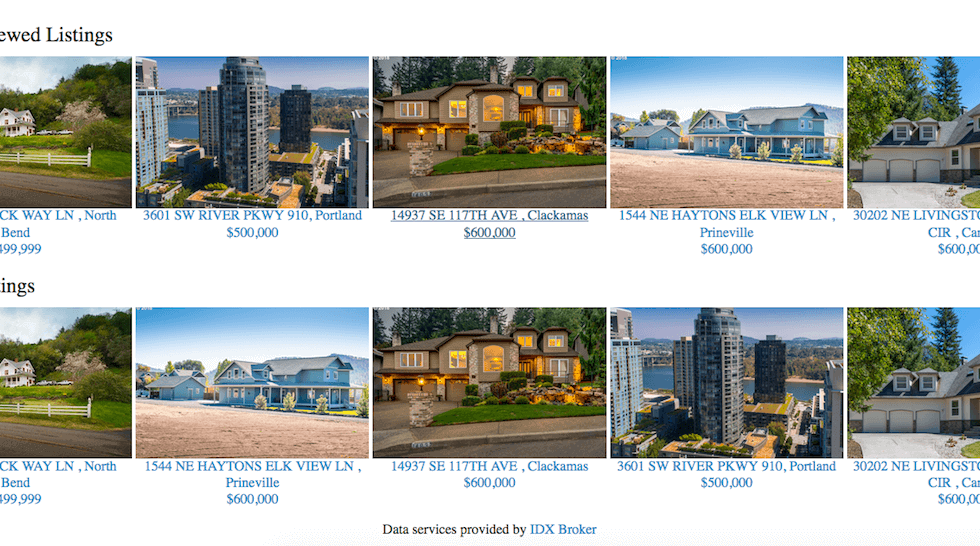 We have a lot of people who are really excited about our Maxima Map Search tool that makes IDX Broker work a lot like Zillow and the other big portal sites. This is a free tool for all our IDX Broker clients and if you don't have it, please contact us today to get it setup for you.
Introducing Social IDX for IDX Broker
We have had a lot of IDX Broker clients ask us about something that would show the most Popular Listings on their IDX feed. We also have had a lot of clients want something like our Similar Listings and Nearby Listings IDX Addons that show the properties that visitors have recently viewed.
Now that IDX Broker has released their templates to the developer partners, we have been working on customizing these IDX pages for our clients.
Our new Social IDX 1.0 is the first version of our details pages. It gives your clients "Recently Viewed Listings" and "Popular Listings". This is available today for all our IDX Broker clients. When you activate it before the end of the month, you get it forever at no charge. Yes. It is free for our IDX Broker clients.
Here is an example of what these look like on a page: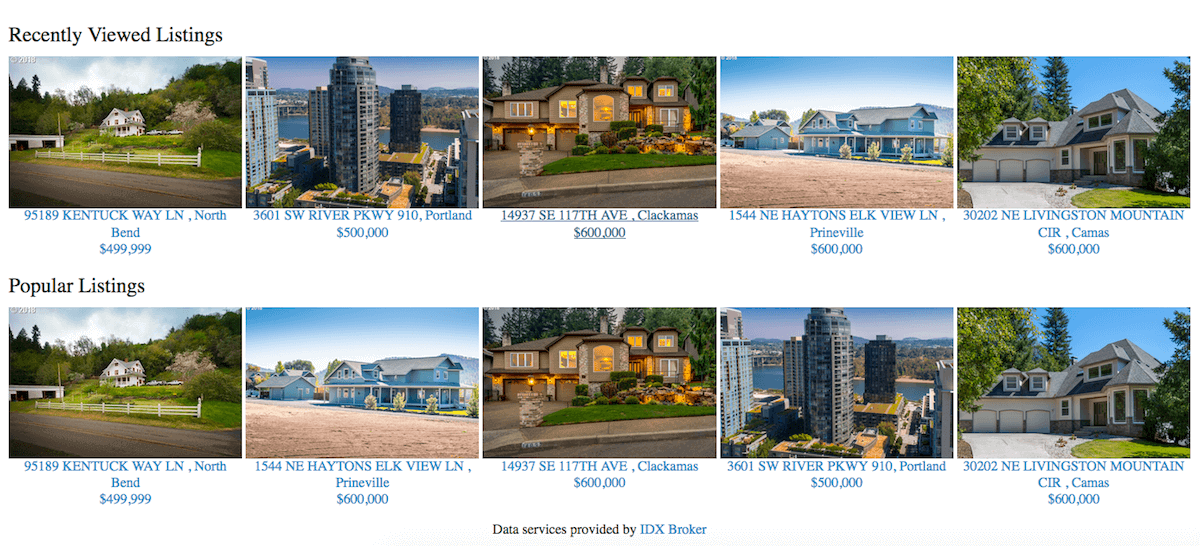 How to get Google Juice out of your IDX Broker pages
The purpose of Social IDX is to keep visitors on your site longer. We have clients who have built out great websites with a lot of community pages, data graphs, and similar listings. The purpose of these pages is to get your visitors to look at "one more page".
When someone comes to your site, looks at a page and leaves, Google refers to that as a "bounce" and they seem to penalize your site if people take a look at just one page. This is because a bounce sends the signal to Google that your real estate site doesn't really have what visitors are looking for.
When your visitors come to your site and land on the first page that is good. But when you can get them to visit one more page, that provides a huge SEO benefit to you. The reason Google gives you SEO juice for that is because Google understands that when people come to your site, they look at multiple pages and spend time on your site looking at information about real estate.
Let me give a small example:
Say Carol is looking to buy a condo in Miami. She types in "Miami Condos for sale" on Google.com. Your site shows up as result number four on the search engine results page or SERP. Carol goes to your site and looks at one page, then leaves.
Carol will probably go back to Google and look at a different website and see if they have what she wants at that point, but she has told Google that your site doesn't have what she is looking for and is really not an authority for "Miami condos for sale". Google will probably give your site a "-1" compared to your competition.
Now let's roll that a little differently:
Becky comes to your site and does that exact same "Miami condos for sale" search on Google. She finds your site in the organic search engine results. So she clicks on a page with a widget that has 8 properties in the tower she is most interested in. Let's say she clicks on 100 Brickell #123. She quickly scans the page and sees the price and amenities for unit #123. As she moves down the page, she can see that there is a condo in the "Popular Listings" section. Becky clicks on that property at 1200 Brickell #603.
Now Becky has sent a signal to Google that when she searched for "Miami condos for sale", your site IS in fact an authority for that search. It has several pages of information that took Becky about 2:12 minutes to look through. Google will probably give your site a "+1" in the search ranking points system.
That doesn't mean you will move up one place on the search results, but if the first result has 53,000 points and the 6th result on a page has 12,000 points, then with one good visitor, that 6th result will now have 12,001 points. Only 41,000 more and they will be in first place on the google search results.
While this is an over-simplified example, it shows that the more information you have that visitors want to see, the more pages they look at, and the more time they spend visiting your real estate site, the better Google views your site.
How to activate Social IDX on your real estate website
We worked hard to make Social IDX 1.0 something that is really simple and easy for any client to setup.
Login to your IDX Broker control panel at https://middleware.idxbroker.com/mgmt/pages.php
Click on the "Edit" link where it says "Change Page Layout":

Scroll to the bottom of the page and click on the Social IDX 1.0 or Social IDX 1.0 Top "activate" button:

That's all folks! It is that simple to activate.
What about the styling and design?
You can go in and make the CSS tweaks that you will need on your website. We made it so that the CSS elements are available for you to see and modify. If you or your developer don't want to do it, you can contact us and we can do it as a customization for you at our current "shop rate".
There is also a "top" and a "bottom" version of Social IDX. This refers to where on the IDX Broker details page the Recently Viewed and Popular Listings display. If you want them at the bottom of the page, use the default. If you want them at the top of the page under the property photos you will want to select the Top template. You can see the difference in the video below.
Social IDX on WordPress WIX, SquareSpace and Weebly
One of the questions we get on almost every new tool we have released since we started doing WIX, SquareSpace, and Weebly IDX setup, is "will it work on my site?"
The answer is a resounding YES!!
We are making these new tools so they will work on you SquareSpace or WIX or Weebly site, so that you get a similar experience for your real estate clients. You can see a SquareSpace real estate site we just did at https://www.arrowgroupdc.com/listings/
If you want to have us setup IDX Broker to your existing site, just visit our IDX Broker setup page.
This is Free? What is the catch? What do I have to buy?
"How can RealtyCandy make a great IDX tool like this and give it away for free?" This is a question that we get asked almost every day.
The truth is that just like your parents told you growing up, there isn't anything in life that is free.
We make these tools for our IDX Broker clients. That means that pretty much anyone who does business with us can send a quick email to IDX Broker and let IDX know that they want RealtyCandy to be their developer partner. This email is free and IDX Broker will normally make that change in about 1 business day.
When that happens, RealtyCandy becomes the first-tier support for your IDX issues. We also provide you with our "free" tools. We ALSO get credit from IDX Broker for taking care of you.
That is how we get the funds that it takes to develop tools. We basically bring people into the IDX Broker "ecosystem" and then we provide the best support and tools we can to keep our clients happy. IDX Broker makes a few bucks on the deal, and they share some of that with us.
That is how we build "free" tools. You don't have to pay us directly for them, but we do get credit for taking care of your IDX Broker needs.
Is this as good as Social IDX is going to get?
This is our version 1.0 of Social IDX. We have some other ideas that we want to implement to get even more interaction from your clients on your site.
We all know from Facebook, Twitter, Instagram, and other social media networks the great value of social interaction on the web.
We plan on adding more functionality to this over the next 6 months or so as our clients and their clients get more and more use out of it.
So what's stopping you?
Go to your IDX Broker dashboard right now and activate Social IDX or contact us and we will do it for you. If you don't use us as your developer partner, just visit our Contact Us page and we can help you do that today.