Real Estate Websites on Squarespace, Weebly and Wix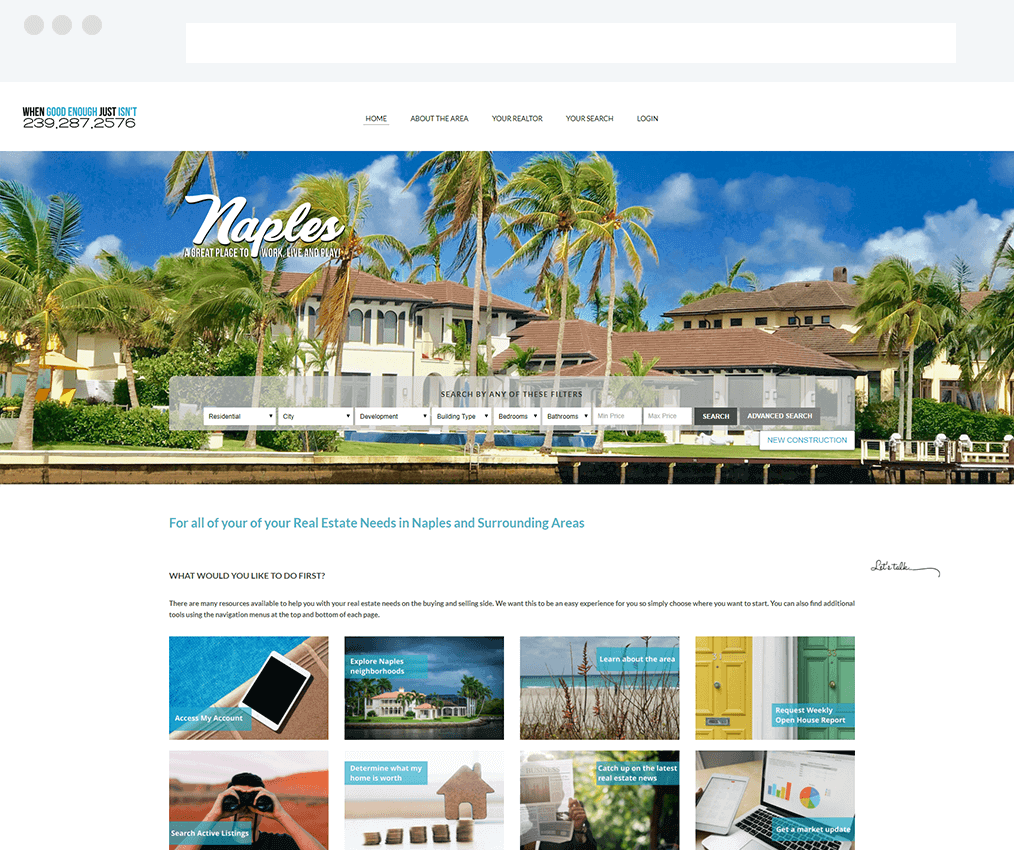 Get the most out of your IDX Broker on your Squarespace, Weebly and Wix website with RealtyCandy
Squarespace, Weebly, and Wix have grown very popular recently due to their simple and user-friendly setups. Basically, anyone without any knowledge of code or design experience can create and design their website on their own with great results.
Squarespace is a very popular website builder, equipped with beautiful templates, an easy to use interface and full of powerful functionalities.
Weebly is also a popular alternative for people who want to manage their website on their own, but also equipped with tons of great marketing and design tools.
Wix is a free website builder that counts with numerous templates and designs. It counts with a very advanced design editor, so their themes can be tweaked with great detail. It also has an AI that builds personalized websites for the users.
This setup also works just as well for GoDaddy's website builder.  Within 1-2 business days we will setup your GoDaddy site to use IDX Broker and you can also add our Free Apps to your site.
RealtyCandy offers IDX Broker setup for Squarespace and Weebly. You can have a real estate website easy to manage and design, powered by IDX Broker and our exclusive IDX add-ons, customizations, services and all the benefits you get by using RealtyCandy as your IDX developer.
See some live demos in action or get started today!
Hank Skinner
"RealtyCandy really helped me in setting up my Wix website with IDX Broker. I have been using Wix for about a year now, and am very comfortable with the Wix features.  [...] I searched numerous Youtube videos on how to do this, and was almost about to change my web developer from Wix.
Then I stumbled upon a RealtyCandy Youtube video showing another Wix Real Estate website that they had done, and instantly reached out to them. The fee was minor, and I continue to receive support from them when an issue arrises. I would highly recommend that Real Estate professionals utilize RealtyCandy."
Renee Peres
"Realty Candy saved our team from potentially spending $8,000- $10,000 to build a custom site. Almost every designer we spoke with did not think using Squarespace to design a real estate site would be feasible. With RealtyCandy's support we were able to do just that.
They were extremely responsive and professional. They accommodated our need to customize. Couldn't ask for a better service provider."
Webb and Company Realty is a real estate group in Leeds, AL. Katie contacted us interested in an IDX Broker setup for her new WIX website, which she designed on WIX's website builder. We did the setup with a solution we developed to overcome the challenges of integrating WIX with code snippets that are vital for the integration, and to create the IDX Broker side in the best way possible with the code that WIX generates. The result was a beautiful website that Katie can easily maintain on her own, which includes powerful IDX Broker widgets that she can easily change on her WIX dashboard like any other WIX module.
Woodruff Brokerage Company
Woodruff Brokerage is a company of brokers that recently decided to invest in a website for their business and to help their clients navigate through listings. They created a beautifully designed website in WIX's platform, and we worked in the IDX Broker widget integration. We added the wrappers and installed Maxima Map Search for them, which they use as the search tool in the site.
RockHill Real Estate Group
RockHill is a real estate group that sells homes in the Flint Hills area. The realtors choose the WIX platform to host their site, given the availability and convenience of the service. Their site is functional and simple, runs smoothly and was easy for the team to design and to currently maintain.
RealtyCandy integrated the Rockhill's site with IDX Broker, providing services for their listings and complex searches for the users. The IDX integration adds functionality and improves user experience on the site. With this, the group was able to set up a site with ease, while still showcasing great and powerful IDX tools for both the users and the business owners.
Working on Arrow Group Real Estate's IDX Customization and setup was a great experience. Renee, a member of the team, contacted us letting us know their group was creating a Squarespace website, and wanted to integrate it with IDX Broker. We became their partner developer and started working in the project.
The purpose was to create a design for the listings and widgets, that they could easily implement in their pages and use to showcase their properties.
We also created a custom search form that they could use in the homepage. The form was built with the purpose of, in addition to the standard inputs of the IDX Broker search widget, adding a dropdown with their main locations and areas of work, so the search feature would be more helpful for the clients.
We also worked on this project with a Squarespace designer, Gerda, who helped us along the way with Squarespace tweaks and design changes.
Prime Brokerage is a real estate firm based in London providing real estate services for various locations. The company wanted to create a beautiful website where they could showcase listings and provide a variety of real estate services for their clients in a solid platform. They created a website with Squarespace and designed a beautiful site with consistent design. RealtyCandy made the integration between IDX Broker and Squarespace, adding wrappers, a search widget, and working to make the service integration as smooth as possible.
Your Naples Expert Showcase
Your Naples Expert is the website of Reneé Hahn, who wanted a IDX Solution for Weebly that would provide a professional website for her business that she could easily manage.
Her website is clean, professional, simple and integrated with IDX Broker. She chose Weebly as her platform, given its simplicity and variety of tools that are easy to use and learn, but that at the same time provides powerful customizations.
The IDX Broker setup was done by RealtyCandy, featuring functionalities to launch her website for the real estate business, such as featured listings, customizations and advanced searches to improve the experience of her clients on the website.