Real Estate Website of the Week WOW! #2 WarnockRealEstate.com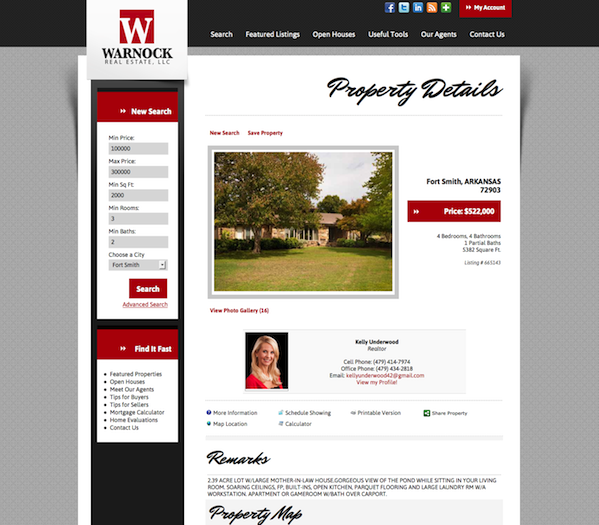 Website: WarnockRealEstate.com
Agents: Clif Warnock, Jayne Warnock & Brokerage
Location: Fort Smith AR
Niche: Fort Smith Arkansas Real Estate
Time to Develop: 20 business days*
Cost to Develop: $2,500 – $5,000*
Favorite Features: Clean Design, IDX Broker Integration, IDX Broker for Office, Built almost entirely on IDX Broker pages
For the second Real Estate WOW (Website Of the Week) website, I present to you, WarnockRealEstate.com

WarnockRealEstate.com in Fort Smith Arkansas has a great real estate website. Their simple design is clutter-free and very clean.
One of the keys of great real estate website design is to make sure that visitors know right from the start what they are supposed to do. Warnock is setup for property search, and exploits the strengths of IDX Broker for Offices.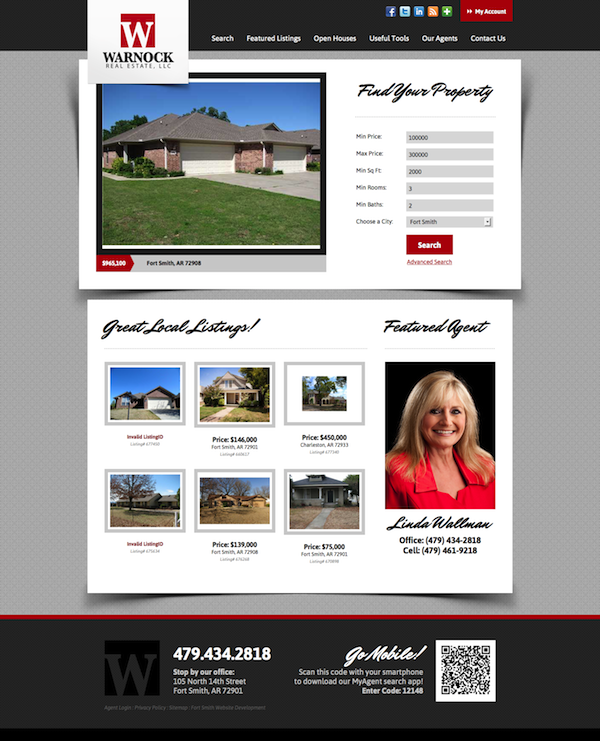 Last week, our real estate website of the week was theJills.com which is a $10,000 – $20,000 website. Warnock is a much simpler site at $2000 – $5000, but still has great styling by using CSS stylesheets and lots of custom CSS to present a classy, modern website.
Starting on the home page, the slider is actually a IDX Broker widget which showcases luxury homes in their market area. The color scheme is bold with red, black, gray, and white. I really like the search tool on the home page, which gets clients quickly into their property searches.
One of the biggest issues I see with clients is that they are trying to be all things to all people. On theJills.com real estate website of the week, I mentioned that they work a niche of luxury homes in Miami. The folks at Warnock are dialing down on middle class homes in Fort Smith. Even their IDX search has a default range of just $100,000 to $300,000. They aren't doing $50,000 to $2 million. That isn't a niche. They are selling to their true market.
The home page finishes off with a IDX Broker showcase of "Featured Listings" by agents in their own office and a "Featured Agent" IDX Broker widget..
The agent photos are all taken with a black background which provides great accents to the site. This uniform look really makes the site look sharp. All of the Agent photos for the IDX Broker Agent Roster page under "Our Agents" are similar headshots taken by the same photographer. I have seen a lot of sites where some agents are with their dog on the beach, while other agents cropped their wife and kids out of a family photo, and still other Realtors are at an awards ceremony and use that image. There really isn't anything "BAD" about doing that, but it doesn't provide the sharp professional image that clients are looking for.
The IDX Broker agent page for each realtor showcases their listings. Besides sharing a very nice bio for each Realtor or Broker, there is a property map, and a list of their listings. Again, I can't help but think that this has to be a great tool to keeping agents happy, and recruiting new real estate agents to their brokerage.
The menus on this site are really focused on using the IDX Broker tools. I'll bet that this IDX Broker installation and real estate website are an important recruiting tool for Warnock. When they show prospective agents their sharp, polished web presence, it makes a great impression.
Since we are IDX Broker Platinum people, I really love the great look on the property results pages and IDX Broker property details pages. Everything is done right and has a nice polished look to it.
If you are looking for a site for your office, team or your own personal real estate website, I really like the look of this site, and we can build one like this for you in about 20 business days.
Contact us today to begin development on your real estate website.
---
Real Estate Website of the Week is our way of showcasing and reviewing some of the really great real estate websites.
We want to show our visitors and clients what can be done with a great real estate website.
These are not your standard cheap and easy real estate WordPress sites, but a project that has a lot of planning, thought, design, IDX Broker goodness, and just an all-around great look.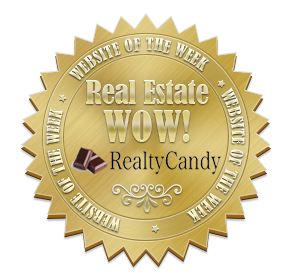 We have put price ranges on these websites to give you an idea of what it takes to do a project like this. Some include great professional photography, design work, or even many hours of styling and customizations.
Most of them also have great content. It takes a lot of time and unless you are a real estate writer, you need a budget to get good real estate content that is interesting and original for your site.
If you have a site, or have run into one that you think we should showcase or review, shoot us an email using the contact information in our footer.
* Disclaimer & Legalese: RealtyCandy.com is not affiliated with, nor has it been authorized, sponsored, or otherwise approved by WarnockRealEstate.com.