IDX Broker Results Templates:
Show your search results and Saved Links in a modern way.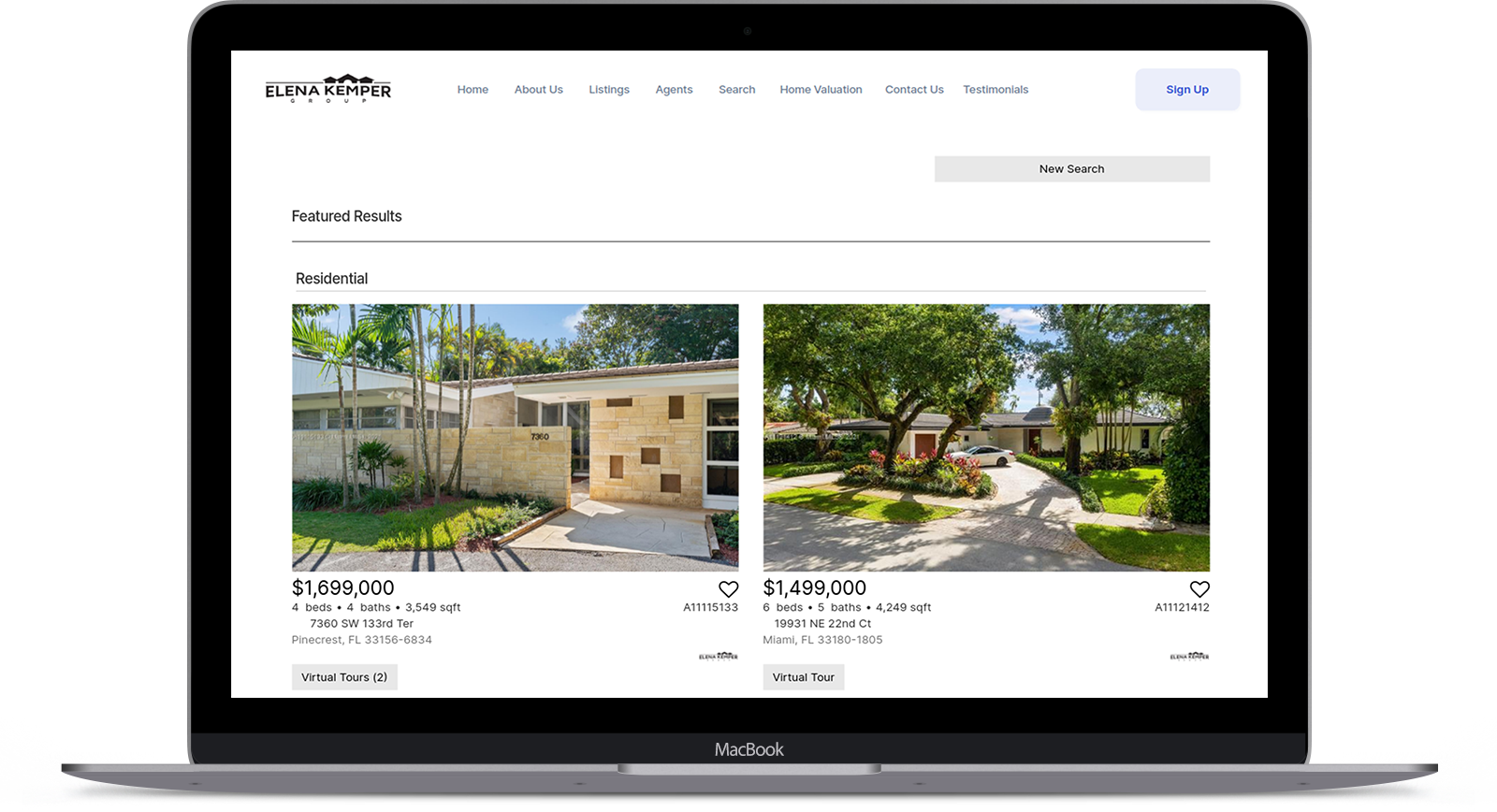 IDX Broker Results Page
This is the page where your leads are sent after they use the search pages. IDX Broker also has prebuilt a set of pages, such as the Featured Listings, the Supplemental, and the Sold/Pending page, that you can add to your website as a menu or in links and buttons.
The results page is also used on Saved Link pages. These are also perfect pages to boost your website SEO, as they use SEO-friendly URLs.
To make full use of these pages, you can use our Quick Community Pages tool. It will to help you make more attractive Saved Search pages, allowing you to add an image at the top and a text description above the results.
We also have a great tool called Auto Saved Search that will help you create multiple Saved Links at once. This is perfect for agents that want to have separate pages for price ranges, beds, etc.
Check out our Speedy IDX Widgets and have listings on your website pages without making it slow and with different themes for you to choose!
Templates forSearch Result Page
With the RealtyCandy Premium templates, you can choose to show your listings in a list, row, or grid layouts, with or without a map, and also choose from big to small photos, with a compact description or with as much information as possible on the results page.
FAQ: Frequently Asked Questions
Do you have a question about IDX Broker or RealtyCandy services? Are you wondering how to use our IDX Addons? Have any questions about what we could do for your real estate site? You're not alone, but we have the answers.
Here are the most frequently asked questions we receive. Please contact us if you don't see your question here.
To get any of our premium templates for your IDX pages, all you have to do is to make us your IDX Broker developer. This process is fast and FREE.
Just send an email to IDX Broker that says you'd like to use Realty Candy as your developer or sign up for your IDX Broker account using our sign-up form.
Your payments with IDX Broker will continue as they are, directly to IDX Broker. You will also have access to IDXAddons.com at no charge.
Contact us here if you have any questions about this process!