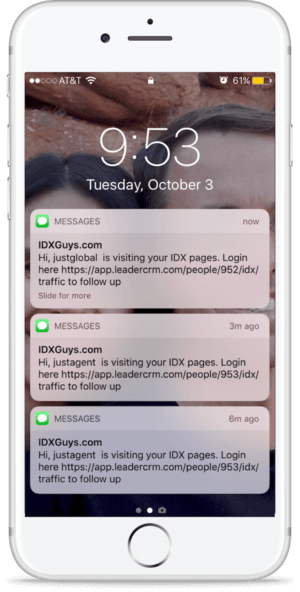 Simple, Fast, and Friendly CRM for IDX Broker
LeaderCRM is not a CRM for agents who need a big, powerful tool like LionDesk, or SalesForce.  If you need something that has a lot of complex functions, you will want to check out one of them.
If you want a IDX-friendly CRM tool that helps you keep in touch with your IDX leads and clients, then check out LeaderCRM.
Mobile IDX Lead information
Text alerts for new IDX Broker leads.  (great for IDX Office accounts)
Text alerts for returning IDX Broker visitors. (great for IDX Office accounts)
New IDX Broker leads are synced to MailChimp so you can send out emails to your list.
Automatic Saved Searches - Property email updates
When is the launch date for everyone?
We are not promoting this to anyone but our IDX Broker clients right now.
We will be adding new features to LeaderCRM for the rest of the year.  After we are done building out all of the features, we will start slowly releasing to the public.
LeaderCRM will be available at no charge for all RealtyCandy IDX Broker developer clients until the end of 2017.  If you signup by the end of the year, you will be "Grand-fathered in", and there will be no charge for your basic service.
Clients who signup after January 1 will be able to get LeaderCRM with all of it's IDX Broker tools for just $10 per month for a single agent and $20 per month for a team or office account.
Why don't you have XYZ option or add ABC to LeaderCRM?
We deliberately put very few options into it, so that agents don't feel overwhelmed or that it is too complicated.
  
Can I add leads from Zillow, Realtor.com, or other sources to LeaderCRM?
You can add all of these leads into your IDX Broker account and then view them in LeaderCRM.  We want to make the best CRM for IDX Broker so all our tools are designed around IDXBroker leads.
  
I am not a RealtyCandy IDX Broker client.  Can I use LeaderCRM for me or for my clients?
We do appreciate your interest, but LeaderCRM is not available for folks who do not use RealtyCandy as their IDX Broker Dev at this time.  If you want to use RealtyCandy as your IDX developer partner, there is no charge for that.  Just shoot us an email or let us know. It is fast, free and easy.
  
When will the new features be added to LeaderCRM?
Since this is web-based, we can push new features and new tools each week.  We will be doing a release every week or two until the end of the year.  Then we will update the video here with the newest features and roll the old videos to the bottom of the page.