Text alerts for returning visitors for IDX Broker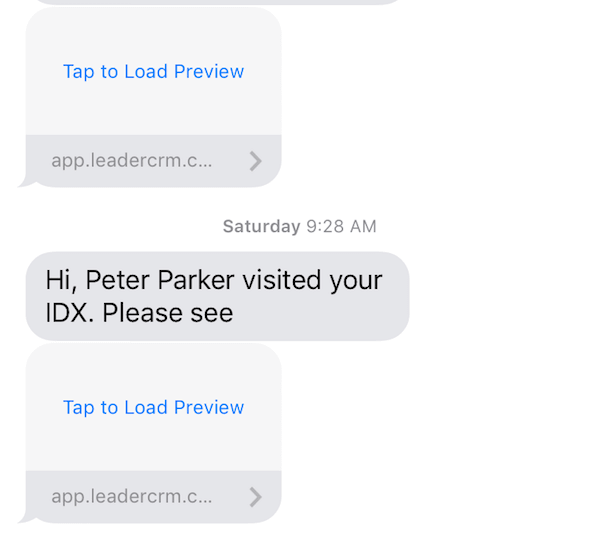 We get phone calls from real estate agents who want a website that has all the benefits of a WordPress site with IDX Broker, but also has the great features of some of our competitors like BoomTown, Kunversion, and RealGeeks.  One of the features that we get asked about most is a text alert for when a returning IDX client comes back to the site.
Introducing text alerts for returning IDX Broker leads
I had an interesting experience last year when I was working with a local Realtor to purchase a property.  I would get sent an email update of new properties that were in my saved search.  When I clicked on the link in the email and visited the agent's real estate website, all of a sudden, he shot me a text message.
I asked "Did I telepathy you? or do you have a sweet tool that lets you know when I am looking at your site?".  He wrote back that he wished he were just thinking about me, but that he had gotten an email that let him know I had returned to his site.
What impacted me the most about this is that he contacted me when I wanted to be contacted.  I was thinking about real estate, looking at real estate, and even dreaming about real estate in that moment.
Compare that to getting an email in the middle of the night, a flyer with the rest of my junk mail in my mailbox, or a phone call right when I am sitting down to a dinner with my family!
Text alerts for clients help you keep in touch
One of the great secrets to sales success is to prepare our prospect and when they are ready, we give them our sales pitch.
With our new text alerts tool, you can set this up to get an alert when your clients come back to your site.  You will know they are looking at property.   If you feel inclined, that might be a good time to send a "I just saw this new listing come on today, maybe it will work for you." type of message.
You can also use that alert as an opportunity to see what they are really looking at.  I may tell my real estate agent that I am looking at $500,000 homes, but when she isn't around, I may be checking out the empty lots under $50,000.  She can see what I am looking at right from her LeaderCRM mobile leads tool and create a new saved search that matches the searches I am making.
How do I get these text alerts?
The great thing about our text alerts for returning visitors is that it is super easy to setup using LeaderCRM.  Just go to https://app.leadercrm.com and either signup or sign-in and go to the Settings page.  There you will see a link to turn on the returning alerts.
You will need to copy/paste a code snippet into your IDX pages.  There is a video at the bottom of this page showing how to do that.
Then you are off to the races.
You will start getting text alerts when your clients return to visit you.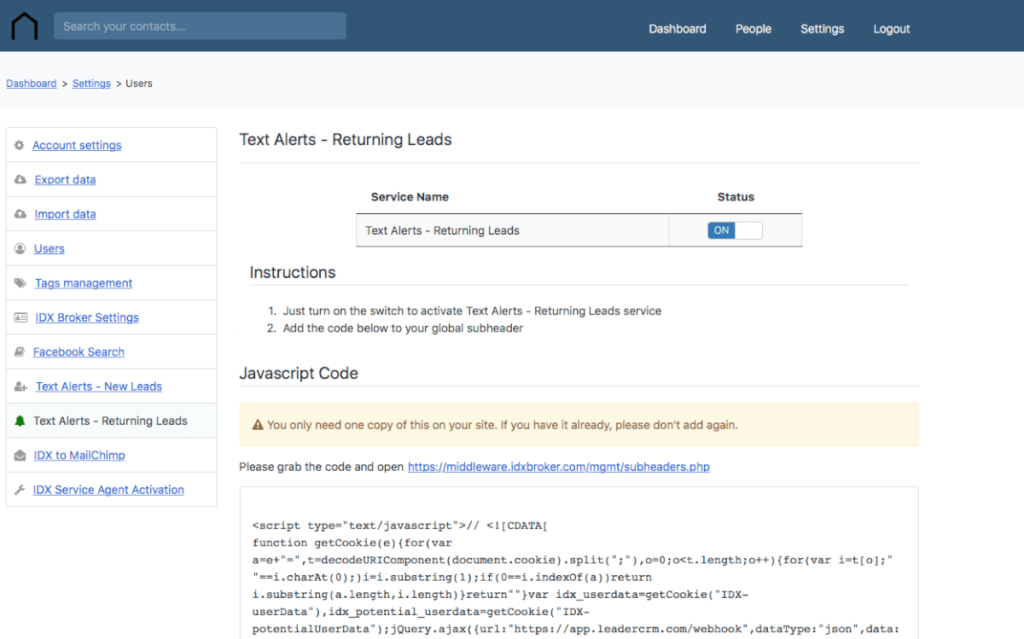 Alerts for the whole office
If you have an IDX Broker office or team account for your company or brokerage, this tool will come in really handy.  Each of your agents can have this setup for them if you would like.  If you have some agents who don't want these alerts because they have so many clients returning to the website, then you can turn off alerts on an agent-by-agent basis.
We built this to work for expanding companies who are growing the number of Realtors in their office.  You can use this as a great recruiting tool to bring new agents to work with you.  They will see that you are using top tier technology that shows you are going to outpace the competition.
Pricing for returning text alerts
We are running this as part of our "beta" test for LeaderCRM.  All of our RealtyCandy IDX Broker clients get this tool at no cost.  We will also "comp" you the first 100 text alerts per month for free.
In the future if we have a lot of agents and offices getting a lot of alerts, we may need to charge for that, but for right now, we are not charging for any text alerts.  So while we are in the "beta" stage, you have unlimited text alerts for your whole office for free.
Yes, you heard right, for free.
LeaderCRM will be free forever for all our active IDX Broker clients who signup now, so get visit https://app.leadercrm.com and get signed up today.
If you don't use RealtyCandy for your IDX developer just shoot us an email and we will show you how you can get LeaderCRM for free.  If you want to pay for LeaderCRM, contact us by email and we can send you a link for that too.
Get signed up today at https://app.leadercrm.com
Quick Setup Guide