Facebook Search for IDX Broker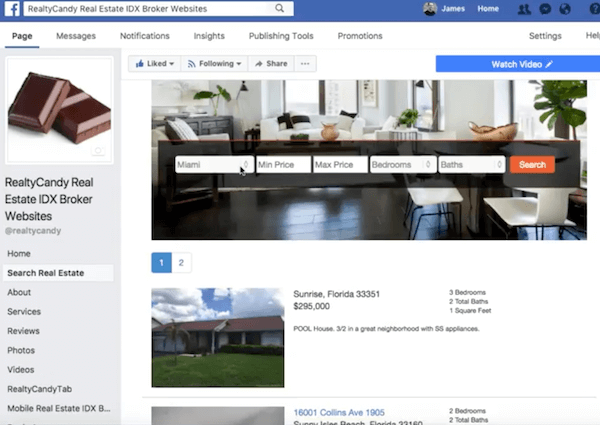 It is staggering to see the number of hours people spend each week on Facebook.  Television networks are getting concerned about falling ratings, but here is a great way you can capitalize on this trend to build your real estate business into a high-performance real estate business.
Show your listings on Facebook
You may have already connected your Facebook page to your IDX Broker "Featured Listings" page.  If you haven't take a look at this quick video to get that setup in just a few minutes:
You will just need to be logged in to your IDX Broker dashboard and your Facebook business page on the same browser.
Once you have logged in to both of them, just go to https://middleware.idxbroker.com/mgmt/facebook and click on the tab that says: "Facebook Page ID".
Put in your Facebook page URL and Save.  You should be setup.  This whole process should take about 5 minutes.  If you get stuck and need some help, just shoot us a message on our "contact us" page and we will be happy to help out.
If you don't use the IDX search on Facebook, you want to set this free feature up.  This will allow your Facebook visitors to take a look at your listings right from your Business page without leaving Facebook.
With home prices on the rise, this small addition can make a big difference in your annual business.
Put IDX search on Facebook
Now that you have IDX listings showing on your website, we can put the search tool on your Facebook.  You can take a quick look at this video to see how it works.
We have had a lot of our clients ask "how can I search listings on my Facebook Page?" or "what's the best way to search for properties from Facebook?".  Here is the solution to your Facebook real estate listing search difficulties.
To get this, just visit our IDX Broker IDX Addons page and signup for Facebook IDX search.
You need two things for this to work correctly:
You have to have some listings.If you don't have any listings, the page won't display properly on Facebook.  Even if you have to go out and get a rental listing or list a piece of vacant land, it might be worth it to just have this Facebook IDX search tool on your Facebook real estate page.
You will need to send us an email letting us know that your MLS approves of this use.If you aren't sure, you can contact your MLS and verify that they approve of it.
Once we get both of these things out of the way, we will setup a search tool based on the "Basic Search" page on your IDX Broker feed.
You just signup for one of our IDX Addons packages or get the "single IDX Add-on" option and then we will put the search tool on your Facebook page.
If you have a nice background image that you want to replace the default one with, please make sure it is about 1200px wide by about 353 tall and we are happy to load that for you.
Then you can just engage folks on your Facebook and send them to your page to start their new property search.