Who is Shelby Dockery? IDXConnect Spotlight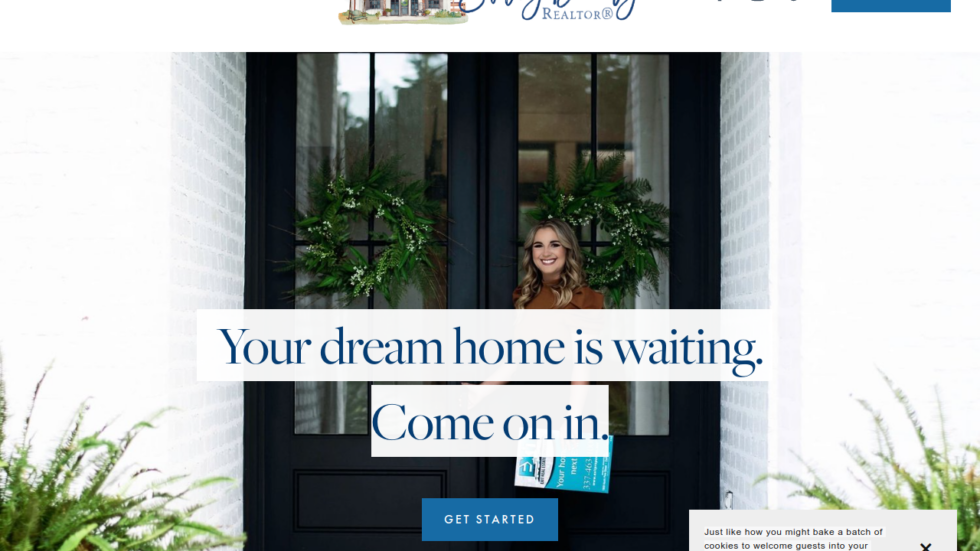 Shelby Dockery is a real estate agent from Louisiana using IDX Broker on her website via IDXConnect. She is a great example of a strong online presence through a well-designed website built using Squarespace.
Her site is functional and visually appealing, using a clean modern design that reflects her professional brand and values. The website is user-friendly and easy to navigate, providing visitors with a smooth browsing experience.
Shelby uses the Greater Fort Polk MLS to provide clients with access to properties in central and western Louisiana. She's part of the team at EXIT REAL ESTATE CONSULTANTS.
Let's take a closer look at her outstanding website!
IDX ADDONS
IDX Addons provide a range of powerful tools and features that can help real estate agents improve the functionality and usability of their websites. Shelby is using two essential addons on her site:
1. OMNISEARCH SELECTOR
One of the first standout features on her site is the OmniSearch IDXAddon.
This tool allows visitors to quickly and easily search for properties on Shelby's website using a wide range of search criteria.
Whether clients are looking for a specific neighborhood, property type, or feature, the OmniSearch addon streamlines the search process and saves clients valuable time.
Plus, it enhances the user experience by making it simple and efficient for clients to find exactly what they're looking for.
2. SEO LINKS
To ensure her website stands out from the crowd, Shelby has implemented a number of innovative tools from our IDXConnect service, including the SEO Links Addon.
This Addon is a powerful tool that helps improve the search engine optimization (SEO) of a website by automatically creating internal links between pages.
By linking relevant pages together, the SEO Links addon helps search engines understand the structure and content of Shelby's website, which can help increase her site's visibility in search results.
The SEO Links addon ensures that all of the pages on Shelby's site are properly linked and optimized for search engines, which can help improve her site's ranking in search results.
Now, we want to show you how Shelby is using IDX Premium Templates. These templates allow Shelby to enhance her website's design and functionality, providing visitors with an easy-to-use interface and a seamless user experience.
Premium IDX Page Templates
With a variety of pre-designed templates to choose from during the IDXConnect integration, Shelby was able to customize her website to suit her brand and style. Here is a more in detail look at the templates she uses:
1. Advanced and Basic Search
Templates are a must! Shelby Dockery's website boasts a user-friendly interface, thanks to the Advance and Basic Search Templates she has set up.
The Zoom Search Template allows visitors to enjoy the same great layout across all pages, including Address Search, Advanced Search, Basic Search, and Listing ID.
This template set is designed to be mobile-optimized, with large fields and buttons that are easy to navigate. The buttons feature rounded corners, and fixed buttons on the page scroll add to the convenience of effortless navigation without needing to scroll down the page.
2. Results Page Templates
These are essential for every Real Estate website. Welcoming your leads to a results page after they enter a search is a crucial aspect of providing an excellent user experience. 
Shelby Dockery understands the importance of this and is using the Austin Results Template. Making it easy for her leads to viewing properties that match their needs.
3. Map Search Templates
Maps are great for your website. It allows visitors to visually explore the available properties in a specific location. It provides a more intuitive and interactive way of searching for properties, and it's especially helpful for people who are not familiar with the area. 
Shelby has incorporated the Zoom Map Search Template into her website.  With a map search, users can see the properties' exact location and surrounding area, which can help them make a more informed decision.
4. Details Templates
Details pages are very important when it comes to Real Estate websites. They provide visitors with in-depth information about a specific property.
Shelby has incorporated the Plunk Details Template into her website which provides users with a detailed view of properties. It also offers a nifty tool to help visitors determine the value of their own homes!
The Home Valuation Tool is a fantastic feature located on the details page of each property listing. With this feature, Shelby Dockery's website offers more than just a platform to browse listings; it's a helpful resource for anyone looking to buy or sell a home.
Integration Overview
Shelby Dockery's website is an excellent demonstration of how technology can boost a real estate business. By incorporating premium templates and innovative tools, her website sets itself apart from the competition.
Shelby's focus on a desirable area ensures that her real estate business is well-positioned to attract potential buyers and sellers.
Overall, her business serves as a great example of how real estate agents can leverage technology to enhance their businesses, providing a professional online presence that resonates with potential clients.
All of the above features were achieved through our IDXConnect Service.
What is an IDXConnect? 
An IDXConnect is an IDX Broker integration service. We have two available options, a Regular IDXConnect for a $79 one-time payment and a Deluxe IDXConnect for a $149 one-time payment.
You will get your IDX Broker set up for WordPress, Wix, Weebly, Squarespace, Webflow, Duda, or any other platform you may use. 
To do a comparison between the Regular and Deluxe Services, simply click HERE.  
How can I get an IDXConnect?
To get an IDXConnect you will only need to follow these simple steps: 
First, you will need an IDX Broker account.
If you already have an IDX Broker account, all you have to do is send an email to developers@idxborker.com with the following text: "I want to use Realty Candy as my IDX developer. I understand that they will be my first contact for tech support and that my payments will continue as they are direct to IDXBroker."
If you do not have one yet, you can visit https://signup.idxbroker.com/d/realtycandy to sign up, by using this link IDX will waive the $100 account activation fee.
Email us your IDX Broker credentials (username and password). These can be sent to support@realtycandy.com
You will need to provide us with admin access to your website.
Make sure you signed up for the integration here.
Once you provide the required information, the estimated setup time is 1 to 2 business days. 
At RealtyCandy, we're committed to providing you with the tools and support you need to succeed in the real estate industry. So what are you waiting for? Let's get started today!