Real Estate Website of the Week WOW! #5 LGMiamiRealtors.com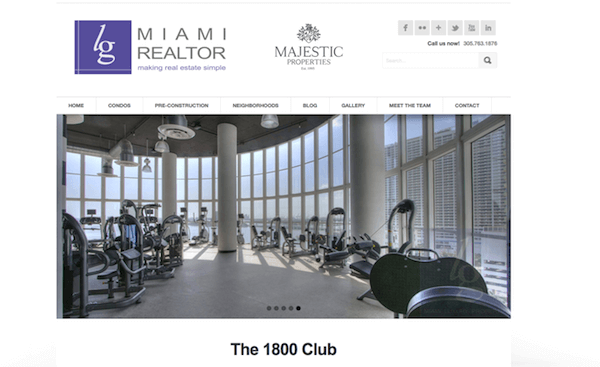 Website: LGMiamiRealtors.com
Agents: Luis Gomez
Location: Miami FL
Niche: Miami Luxury Condos

---

Favorite Features: Clean design, Fabulous images, IDX Broker Condo Pages, Translation
---
Just like a home builder loves to build a beautiful home, as web developers we love to work on beautiful real estate websites.
LGMiamiRealtors.com is one of the nicest websites I have seen.  Luis Gomez has really worked hard curating photos and images of all of his condo communities in Miami Florida.
I feel like the visual impact of the site is really what makes it have that WOW! factor.
Home Page
The home page on LGMiamiRealtors has a very engaging slider rotating images of Miami condos on it.  The photos are so stunning, that the visitor wants to stay and see each image.

The communities section in the middle of the page leads clients to the pre-construction condo properties that Luis has selected to work with.
Sliders
I already mentioned how important the property sliders are on the home page of this real estate website, but almost every page has a slider with images specific to that page.
This generous use of sliders provides the visitors with tons of beautiful views of these Miami condos and neighborhoods.
Sidebars
The sidebar is really an area on a real estate website that is often overlooked.  We have had clients who want us to just put something quick and ugly there.
The sidebars are so important, because on these WordPress real estate websites, you have the sidebar on almost every page, and every IDX Broker page.  So you are going to have a lot of eyeballs on your sidebars.
It is so important to get nice visuals and put only necessary content on the sidebars.  These are clean and very un-cluttered.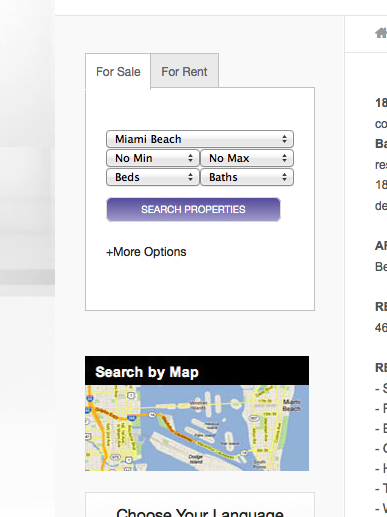 They have the IDX Broker Platinum search in a tab format.  This allows the visitors to select for sale or rental properties in a quick click and keep a common look.
Another important item in many markets, especially international markets like Miami and south Florida is to have the Google Translate buttons.  These allow visitors to quickly see most of the content in their chosen language.
These are just like training wheels.  I am a fluent Spanish speaker and my wife, the "Certified Court Interpreter", just about has a panic attack when she sees errors in these translations.  While I realize that they are not 100% accurate, they are pretty good and help folks who are not that comfortable with English.
The last part of the sidebar I want to mention is the "Quick Buttons" down the side.  These buttons help visitors quickly see other options and move to other parts of the website.  The name of the game is keep your visitors engaged on your real estate website, and these buttons are a big part of that.
Miami Condos Pages
There are tons of great luxury condo communities in Miami, and the "Condos" page shows all of the areas that Luis wants to focus on.  He doesn't try to showcase every condo in the city limits, but just the ones that fit his niche.
Once you find the condo community that you want to visit, you click and are quickly taken to the IDX Broker Platinum page for that community.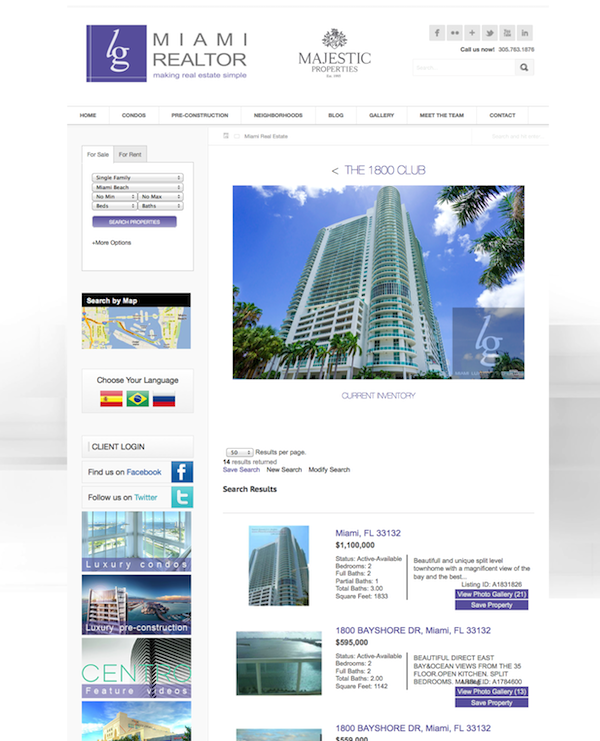 IDX Broker Platinum Pages
I might be a little biased, but these IDX Broker Platinum pages showing the "for sale" and "lease" condos in each property are really awesome!
Each page has a beautiful photo of the property with some information about the condos.  Then we get the list of condos that are either for sale or for lease.
Just think how difficult it would be for a visitor to go to the "basic search" page and using IDX Broker Search tools, find just the condos in "1800 Club".  They have all kinds of prices and amenities.  It would take a ton of time to filter through all of those condos.
Luis has had us curate just the listings for each of these properties, allowing the visitors to his site to quickly find exactly what they want, and give him a call.
This slideshow requires JavaScript.
Real Estate Website of the Week is our way of showcasing and reviewing some of the really great real estate websites.
We want to show our visitors and clients what can be done with a great real estate website.
These are not your standard cheap and easy real estate WordPress sites, but a project that has a lot of planning, thought, design, IDX Broker goodness, and just an all-around great look.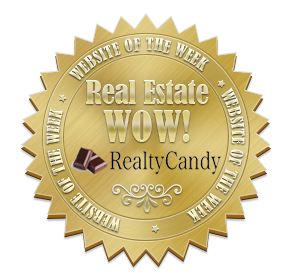 We have put price ranges on these websites to give you an idea of what it takes to do a project like this. Some include great professional photography, design work, or even many hours of styling and customizations.
Most of them also have great content. It takes a lot of time and unless you are a real estate writer, you need a budget to get good real estate content that is interesting and original for your site.
If you have a site, or have run into one that you think we should showcase or review, shoot us an email using the contact information in our footer.
* Disclaimer & Legalese: RealtyCandy.com is not affiliated with, nor has it been authorized, sponsored, or otherwise approved by LGMiamiRealtors.com.