Auto Saved Searches for IDX Broker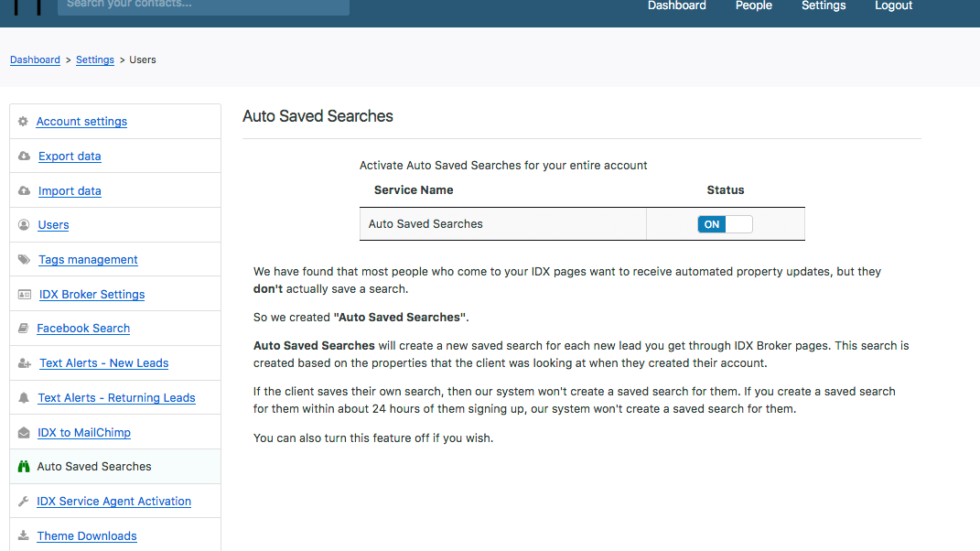 If you are like a lot of our clients, you have IDX Broker setup, but you find that some of your leads are not getting the emails with the property updates.
Get the most out of your IDX with email updates
When you have a new lead signup for an account and save one property or even a handful, our server uses AI to look at the properties and searches that your users have looked at, and create a saved search for them.
I just looked at a report showing a snippet of traffic from some of our clients:
It is just a snippet that shows 3 saved searches created for clients who have Auto Saved Searches activated on LeaderCRM, but it also shows a lead who we did NOT create any saved searches for because they are already setup and receiving property updates.
We also can see on that report about 6 leads who are looking at properties and who do not have Auto Saved Searches activated.  That means that these leads may have saved a property, asked to schedule a showing or favorited a listing, and they are not getting any email updates.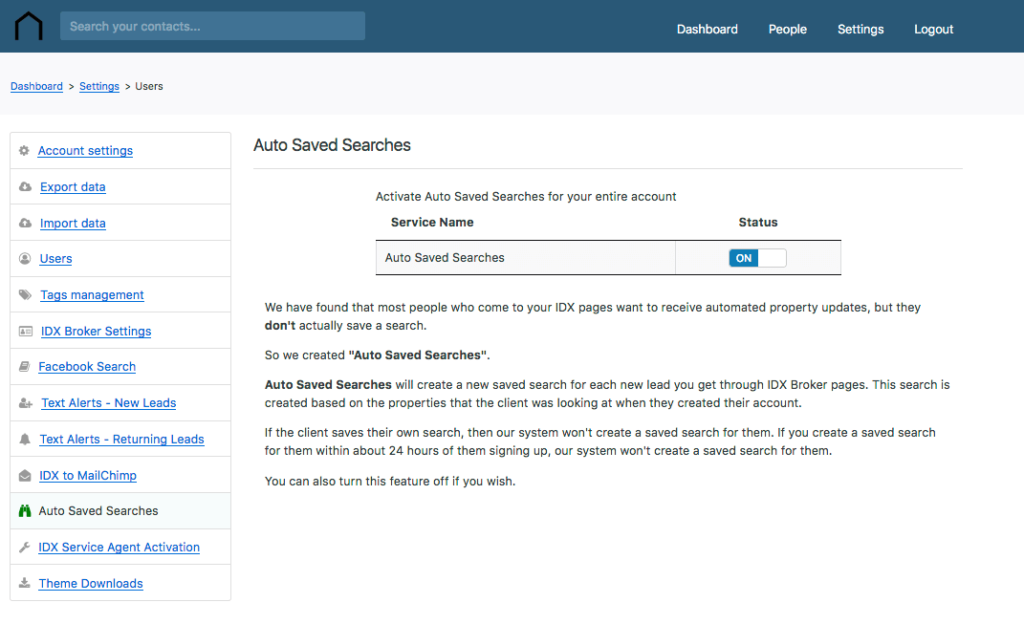 How to NOT lose IDX Broker real estate leads
You have gone through all of the trouble to bring someone to your website and you have the systems in place to keep these leads "warm" by sending them property updates. Now, all you need to do is get over to https://app.leadercrm.com and get your  "Auto Saved Searches" going (some clients have noticed that this makes a very catchy acronym).
Check out the video below on the page to hear a short story about my neighbor who is staying loyal to her Realtor, because the agent is providing her with email property updates.
We have seen some client's web activity where the client comes in and asks about a property and the agent sets up an appointment to show a home or condo, and then something happens and the showing gets put on hold, the agent gets busy, and the lead falls through the cracks.
This is crazy!!!
Once you have spent the time and resources to build a real estate website, setup IDX Broker to it, and maybe even shoot some Google Ads or Facebook Ads to your site, make sure your client is getting property updates from you.
Are these Auto Saved Searches as good as my custom saved searches?
We have a client, let's say his name is Bob.  Realtor Bob has a practice to get the most out of his IDX:
He creates a handful of saved searches, and assigns them to his clients.
We know this, because sometimes late at night when we are working on a new tool or gathering data for how Saved Searches work on IDX Broker, we came across his leads and his traffic.
Bob looks at the client information including their IDX traffic, and based on what they looked at he will assign one of several saved searches to that lead.  One client may get the "Homes with water view or water front", another client may get "Condos under $500,000 downtown".
This is really the best way to take care of your clients.  Bob's system works better than ours does because no amount of "Artificial Intelligence" can create an algorithm that is as good as a real Realtor who knows his/her market and takes the time to keep in touch with their leads.
So the answer is NO.  These will never replace the love and care "Bob" puts into the saved searches his clients normally get.
But...
If Bob goes on vacation, gets sick, or simply collapses after a busy day showing properties to his clients, he can count on our Auto Saved Searches to fill in the gaps and keep his leads getting emails and property updates.  Then, once he gets back in the saddle, he can update, or remove the saved searches we have put in place with LeaderCRM.
Ok. I am convinced! How much will it cost me to get Auto Saved Searches?
We spent a lot of time and resources to build this tool.
We considered charging $29 per month and selling it as one of our premium IDX Addons.  Then we considered just making it one of our standard IDX Addons that can be purchased in a bunch of three IDX Addons for just $29 per month.
We also took a look at making it a "Pro" feature on LeaderCRM.  Maybe we could charge $10 per month for our clients to make sure that their leads are nurtured and kept in the loop about new and future listings.
We have decided to make Auto Saved Searches completely FREE for all our IDX Broker clients for the rest of the year.
All you need to do to get Auto Saved Searches for your IDX Broker accounts is to visit https://app.leadercrm.com, go to settings, and click on Auto Saved Searches.  Make sure the button is "On" and now your leads will get property updates to their email account.
If you don't have LeaderCRM yet, you can go to https://app.leadercrm.com/register and signup today.
What if I don't have an IDX Broker account with RealtyCandy?
We think everyone should have an IDX account with RealtyCandy as their developer partner.  That gets you access to RealtyCandy tools like LeaderCRM.
You can shoot us an email by visiting our Contact Us page here to have us show you a fast, free, and easy way to use RealtyCandy as your IDX Broker developer partner.
If you don't have IDX Broker yet, just use the link in the footer of any page to signup at http://platinum.realtycandy.com and IDX Broker will waive their new account setup fee.
If you would like to purchase LeaderCRM and not get it free by using RealtyCandy as your developer partner, please reach out to us on our "Contact Us" page and we will add you to our waiting list.