SMS or Text Alerts plugin for Smart Sites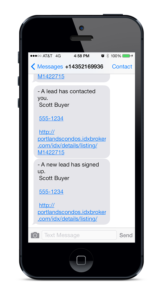 Included in our Smart Sites, we have a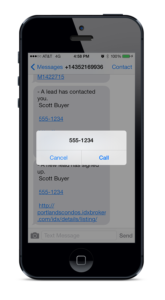 tool that will send you an SMS or text alert to your phone whenever you get a new lead through your website.
How does this happen? Any time a new user wants information on a property, or signs up on your account, our SMS tool will send you a text message from IDXBroker telling you the good news about your new lead.
Remember that the difference between great success and hardly any success from these leads is a prompt follow-up.
Not only will you be alerted via text-message, but you will also receive an email alert to your account. The message will have your new lead's phone number that you can click to call them as well as the link to the property page that they were looking at.
This tool is still in Beta and we are still developing it so that it works even better. If you have any feature requests, send us an email so that we can add those into our tool.
Show your leads that you are that realtor that gets things done by being first to respond. Like the old saying goes, the early bird gets the worm.
What if you don't have a Smart Site, but you still want this great tool for your company? That's totally fine! Click here to learn more!