Perspective: Why We Choose, Like and Commit To Squarespace Website Platform

(Guest Post by our SquareSpace Preferred Partner Gerda Kauks.  Gerda is based in Scottsdale and has collaborated on SquareSpace real estate sites using IDX Broker with RealtyCandy.)

Whether you are in a business startup phase or the "need to up upgrade the look" stage of your website, the Squarespace platform is the right fit for any type or size of business, in any stage. I speak from lengthy experience of working within the Squarespace platform on a daily basis to help my clients reach their business goals.
WHY SQUARESPACE?
Designers love it. Clients love it. The more I use Squarespace, the more I realize that the benefits for both designers and clients are very much aligned. Each template is highly flexible, from design elements to functionality–explore the Feature Index HERE and the Marketing Tools HERE. I recommend the platform to all of my clients not only because I love working with Squarespace templates, but because Squarespace is user-friendly enough that my clients feel comfortable navigating the site on their own–client control and flexibility is imperative.
AFFORDABILITY + FLEXIBILITY
I also think Squarespace makes sense from a financial perspective: you get a ton of functionality for the price and hosting costs are extremely reasonable, too. A basic "Personal" website account is $16/month, "Business" is $18/month, and e-commerce shopping cart accounts start at $26/month. About 70% of my clients use the basic website account because it offers all of the necessary features to showcase a modern look and contains easy-to-use strategic functionality. Plus, Squarespace offers the option to stop and start your monthly hosting service at any time.
WHY USE A DESIGNER?
Though Sqaurespace is user-friendly enough to DIY, I highly recommend hiring a designer who knows the ins and outs of the platform so you can focus on what you do best–growing your business! A designer will be able to match you with specific tools and features and look after your project scope interview. Squarespace offers various video tutorials, which are helpful for anyone interested in building a website themselves, but this takes time. So, think about your business and website goals and assess how much time you have to dedicate to your website–you may find that the cost of a designer is well worth it to allow you extra time and brain space to dedicate to working on your business.
ANALYTICS + SEO
One of my favorite Squarespace features is the Analytics tool. It is included in every site and allows users to track website traffic by number or visits, page popularity, and view website visitors by geography. Additionally, Squarespace offers built-in SEO with options for maximizing search performance, as well as tracking your site's performance via its own analytics dashboard. They encourage and educate you on how to be more visible! Read more HERE .
WEBSITE REDESIGN
Already have a Squarespace website but need a facelift? Request an overview or proposal from a website designer and if you agree with the scope of work and like their design aesthetic, a designer can easily update the template, look or content. A new or updated website doesn't have to cost an arm and a leg–Squarespace is so designer-friendly that it won't take a good designer long to revamp your website (this depends on client feedback, of course).
In many cases, clients come to me because they've seen a website design they love and want to use aspects or inspiration from that site and incorporate it into their own. I love working with clients at this stage. Finding just the right template within Squarespace allows designers to cater to your vision and business goals on a collaborative level–it's one of my favorite aspects of being a designer. The creativity should be original to you, your identity, and your brand so it stands out, but a designer can help guide your ideas into effective marketing and design.
IN A NUTSHELL:
Squarespace is a user-friendly, self-contained website platform that combines smartly-designed templates with modern features. Using Squarespace (and the right designer!), your website vision can easily become a reality.
Feel free to browse our portfolio at GDisain and contact us at gerda@gdisain.com for a complimentary website consultation.
Gerda Kauks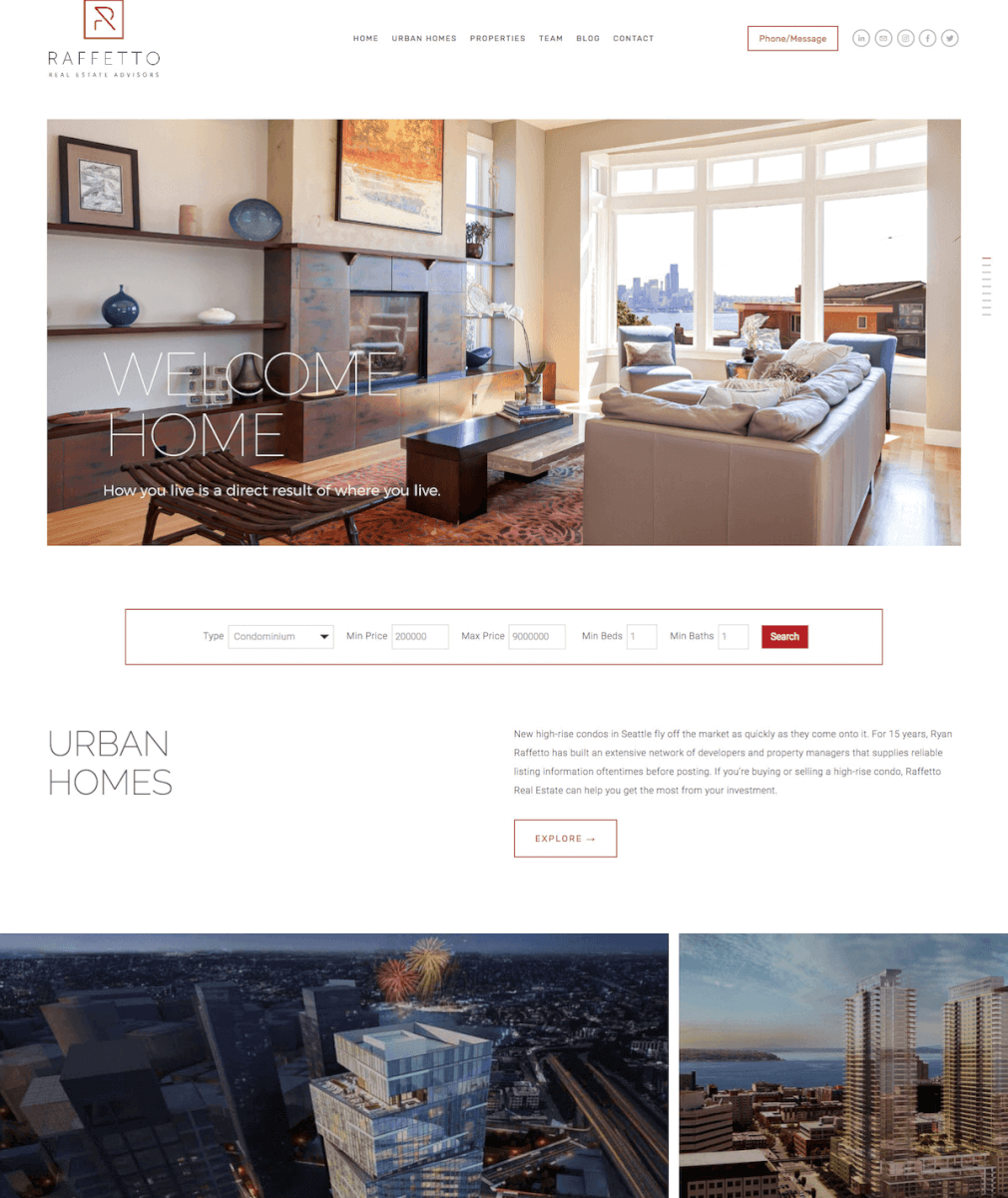 Take a quick look at some sites that Gerda has worked on with RealtyCandy: