Market Reports for IDX Broker Platinum
IDX Broker just released their new Market Reports tool for all Platinum users this week.  Take a look at the video at the bottom of the page to see it in action.
What are IDX Broker Market Reports?
Market Reports from IDX Broker provide information based on a city in your MLS area.
These reports show the numbers of active listings by property type for the city.  There are also some nice graphs showing property information and demographic data for your area.
One of the things that you will love on these is that there is a "VIEW ALL ACTIVE LISTINGS" link that allows your visitors to go look at all of the properties available in the city.
There is also a nice "Signup" call to action that prompts your visitors to get an email alert when there are changes in the data on the Market Graph.
These emails are a great way for you to keep in touch with your clients and your prospects.  The emailed data graph will keep you and your brand "top of mind" for your visitors.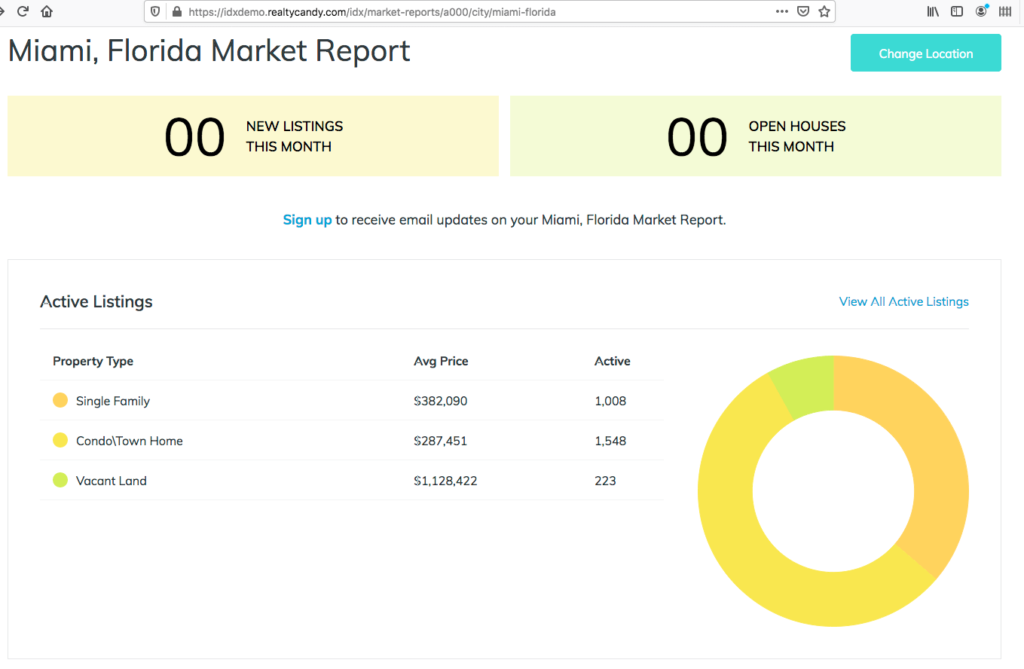 How much do Market Reports cost?
IDX Broker Market Reports are FREE for all of their IDX Broker Platinum users.
If you are currently using IDX Broker Lite and you want to use or even try out Platinum and the Market Reports.  Just contact us and we will be happy to switch your account to Platinum.
IDX Broker will pro-rate their $20 per month upgrade for you.  So you only pay for the days that you use.
If you decide that you don't like the Market Reports just let us know and we will switch your account back to IDX Broker Lite.
Who can use IDX Market Reports?
Right now it looks like Realtors in MOST MLS areas have access to these Market Reports.
If you want to test drive it or take a look at our demo you can visit here:
https://realtycandy.idxbroker.com/idx/market-reports/a000/city/miami-florida

What do I need to do to upgrade to IDX Broker Platinum?
If you are currently using IDX Broker Lite, you can quickly visit https://middleware.idxbroker.com/mgmt/upgrade and click on the bottom where it says "IDX Broker Platinum" and you can upgrade your site to Platinum in about 30 seconds.
Besides getting access to the IDXBroker Market Reports, you will also have access to the Polygon Map Search tools for searches, and widgets.
There are other features that you will find available by using IDX Broker Platinum.
Platinum does cost $20 per month more than your Lite account.
Will Market Reports work for my WIX, SquareSpace, Weebly, or WordPress site?
Absolutely.
For our clients with WIX, SquareSpace, Weebly, GoDaddy builder, and WordPress, these Market Reports work great.
We have clients using our NEW PureIDX sites that are able to use Market Reports too.
Since they run on the IDX side of your website, you can keep them as long as you have your IDX Broker account.  This makes them a great addition to your marketing arsenal.
How do I create a Market Report?
Creating a IDX Broker Platinum Market Report is really a piece of cake.
Go to https://middleware.idxbroker.com/mgmt/leads where you should find a list of your IDX leads.
Select any of the leads, and on the right side of the page click on the "Lead Info" icon that looks like a person.
You will want to click on the tab that says "Market Reports"
Click on "Add or Create Market Reports"
Search for the city name you want to use.
Select Email Updates if you want to send emails to your lead.
Click on the "Save Market Report" button.
That is it!  Your new Market Report is created.
If you want, you can click under the "Tools" column and click on "View" to see the Market Report, get the link to share with your clients or anything else.

How can I view stats for more cities?
One of the coolest features of the new Market Reports is that you can just click on the top right hand corner and get a dropdown of other cities to see what they look like.
You just click on the "Change Location" button and then you get an option to load a new city name in there.
It is really sweet to be able to quickly take a look at all of the information in the MLS.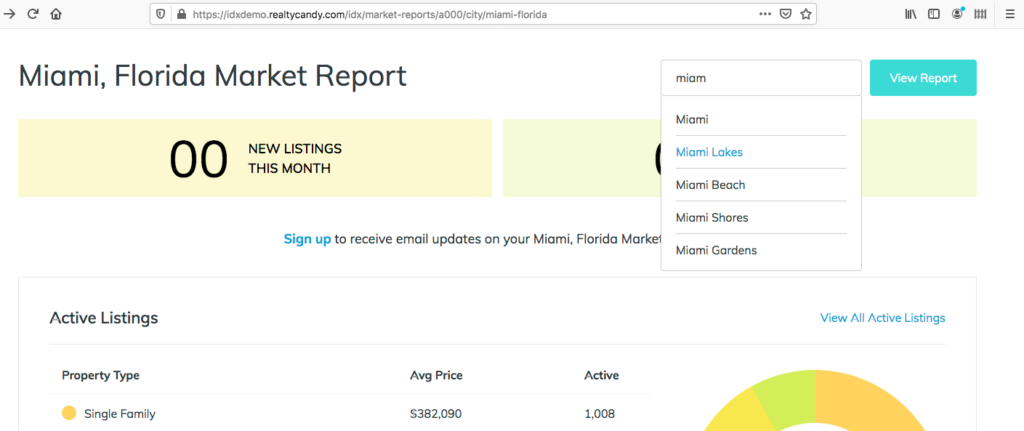 Video showing an example of how to make Market Reports for IDX
Here is a great YouTube Video showing exactly how to setup one of these IDX Market Reports in about 2 minutes: