Las Vegas Real Estate is shining with Dulcie Crawford


Home to Fremont Street, Caesar's Palace and the Bellagio, Las Vegas is at the top of the list on many people's must visit destinations. From the adventurous night out, to the family friendly attractions, Vegas is definitely a city full of life and possibilities.
We were happy to work with Dulcie Crawford, born and raised in Las Vegas, in creating DulcieCrawford.com. Our goal was to create a site that would reflect her take on the real estate market in the Las Vegas and the surrounding areas. Dulcie is passionate about the communities she serves. Her knowledge on market trends, financing and professionalism are a great asset to anyone interested in finding the home of their dreams in the Las Vegas area.
As you first look at the site, you will notice the clean layout and appealing color scheme based on Dulcie's logo. Simple yet elegant colors were key to complementing Dulcie's preference of having as much information as possible readily available for visitors and potential home buyers.


One of the first things you see is the Home Quick Search tool, the tool itself was designed to display a simplified IDX Broker search form and expand to reveal additional search options when visitors engage on a property search.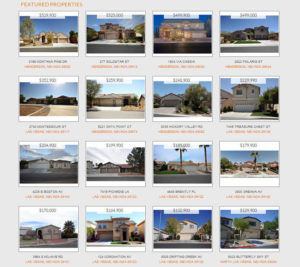 Under the Featured Properties area you will find an up to date list of the Agent's featured properties. This list is dynamically loaded through an IDX Broker Platinum widget that updates the list in real time allowing for potential home buyers to stay up to date anytime they visit the site.
On the website's footer we included an excerpt about the agent, blog posts,and a blog subscription tool as well as Dulcie's twitter account that includes her latest posts. It was important for us to showcase Dulcie's engagement within the market and her community. We feel it is imperative to find the right tone for an agent's website, their branding and personality can speak volumes when it comes to getting this message across.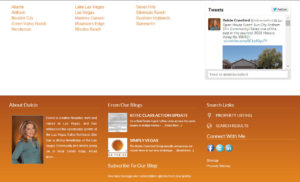 We really enjoyed working with the folks at the Dulcie Crawford Group and making their vision come to life.
Check out their site at http://DulcieCrawford.com