HawaiiProperties.co — A Classy and Clever Real Estate Site

Ronda Day is a distinguished real estate agent in Oahu, Hawaii who contacted us to set up a Smart Site for her. (Our Smart Sites are our WordPress based sites and are integrated with IDX Broker). This website goes beyond being just "awesome", it's classy and clever.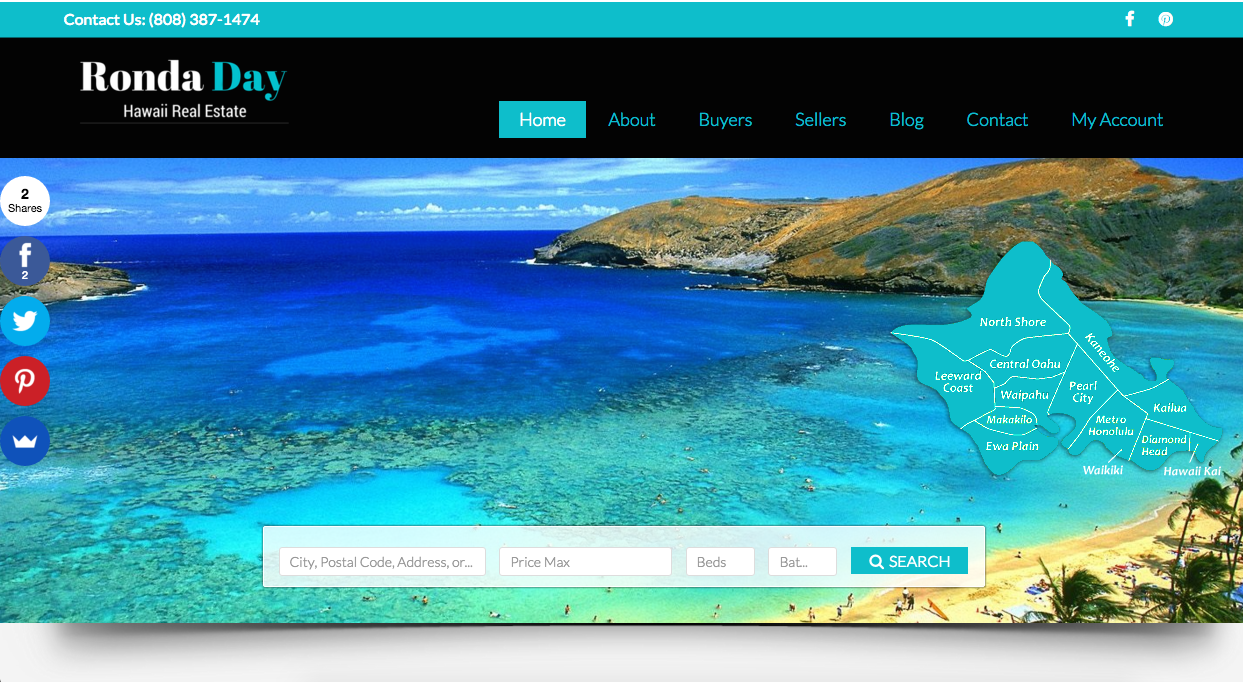 Interactive Map Search Tool
Ronda requested a custom map search tool for her site that was specifically tailored to the island of Oahu. When you hover your mouse over any subdivision in Oahu, you can click on it and get all of the listings in that specific subdivision.

Communities
The community pages on Ronda's site have gorgeous images and very good descriptions of each community as well as links to each neighborhood in that community. This is really great in helping her site rank higher with Google and other search engines for those communities.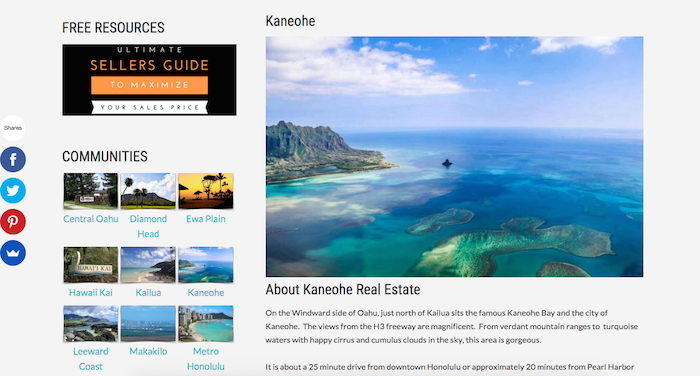 Resources
Since we are all Real Estate agents or developers here, I want to give a shout-out to Ronda for having original, relevant buyers and sellers resources for her clients. It is pretty common to see the normal bullet-point Buyers and Sellers page, but you can tell that Ronda's pages were written by a human being and not copy and pasted. Original content is a big factor in ranking high on Google search result pages. Google likes human content, and will punish people's sites for copying and pasting.
Lead Generating Guide
The buyer and seller pages are really great, but Ronda's Ultimate Sellers Guide to Maximize Your Sales Prices is genius. It gives answers to questions like: "Should I remodel my kitchen before I sell my house?" and other suggestions. But the guide itself isn't the most genius part of that resource, it's how she makes her clients access it.
In order to download the guide, visitors must enter an email address to get it, and Ronda generates leads. After signing up for the guide, each potential lead gets two emails: one is the PDF guide, and the other is a welcome to her site. This last email includes a "heads up" letting the leads know that she will be sending interesting articles and great deals like featured properties or potential investment opportunities.
We really enjoyed setting up this site for Ronda and are amazed with what she has done with it!
Check out other sites that we have set up, and get signed up for a website today!
[button class="btn-inverse" size="btn-lg" inline="true" link="https://realtycandy.com/our-work/" target="_blank" ]Check out our Portfolio![/button]
[button class="btn-inverse" size="btn-lg" inline="true" link="https://realtycandy.com/smartsite/" target="_blank" ]Get a Smart Site![/button]
[button class="btn-inverse" size="btn-lg" inline="true" link="https://realtycandy.com/products/" target="_blank" ]Get a Website![/button]