Content Marketing From Home With IDX Broker
A common question we get asked here at RealtyCandy is, "how do I generate more traffic with my website?" Website traffic is the most valuable commodity for anyone trying to grow their business online. Understanding how it works and what to do to improve your statistics are where most people get lost on their own. For the real estate agents that come to us with this question, we mainly give these two answers. 
The first option is you can try buying Google ads, Facebook ads, or ads on another highly trafficked website. Of course, that's expensive, and it's kind of like if you were to "rent" your marketing instead of just outright buying your marketing to own.
Real estate agents tell people about the value of buying instead of renting a property, and yet many real estate agents "rent" their websites. Oftentimes, they get their website from a vendor who controls it, and they can't modify it.
We like our products with WordPress because our clients own their sites. If they want to stop working with us, they can take their site with them.
The second option is content marketing. You actually end up owning all of your marketing if you go this route, but there is one caveat: you have to write your own content.
You can hire someone to do this and choose to spend money instead of time, or create the content personally while maintaining complete ownership of the marketing.
This is because it's just on your website, rather than needing to constantly pay for temporary space and clicks.
We have several clients that market their own content on their site, and it is by far the most successful way to get new site traffic and improve Google results without going over budget.
How Our Clients Use Content Marketing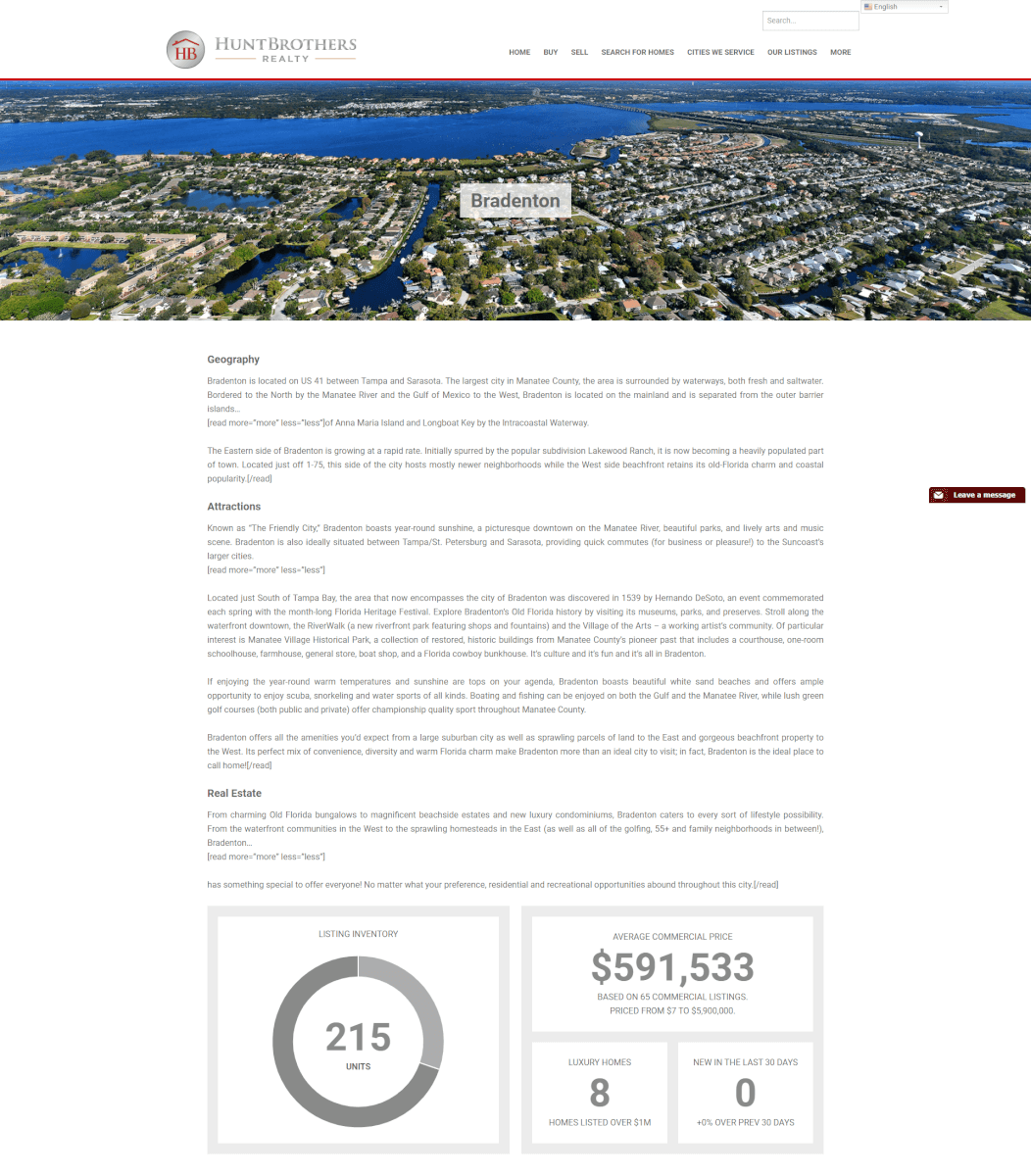 The first client whose site we want to exemplify for their content marketing is Hunt Brothers Realty.
If you check out, "Cities We Service", you see a full page with all of the cities included in their serviced locations. For the screenshot to the left, we then went to Bradenton and took a look at that page in particular.
When Google finds this page, they have a lot of information to gather, and that's a great thing for site traffic. The more original content they find on a website, the better.
Hunt Brothers are using our Community Data Graphs, a widget they made in WordPress for their listings, styled to match their site, and a picture of the city as well as geographical information.
The sheer amount of original content, if this page is matched by every other community serviced, adds up to a lot when Google looks at your entire site. Regular updates or blog posts are a great way to create this level of engagement if you don't have as many communities or locations to highlight throughout your site, or even in addition if you want to maximize your site's potential.
This page even includes a full set of price ranges and breaks down the listings into home types, 55+ Communities, and various subdivisions of the city.
We've seen other clients do school districts, as well.
The more specific these categories get on your website, the better odds you have of keeping people clicking around your website.
How long visitors spend browsing your site is one of the main factors Google looks at to determine your SEO score.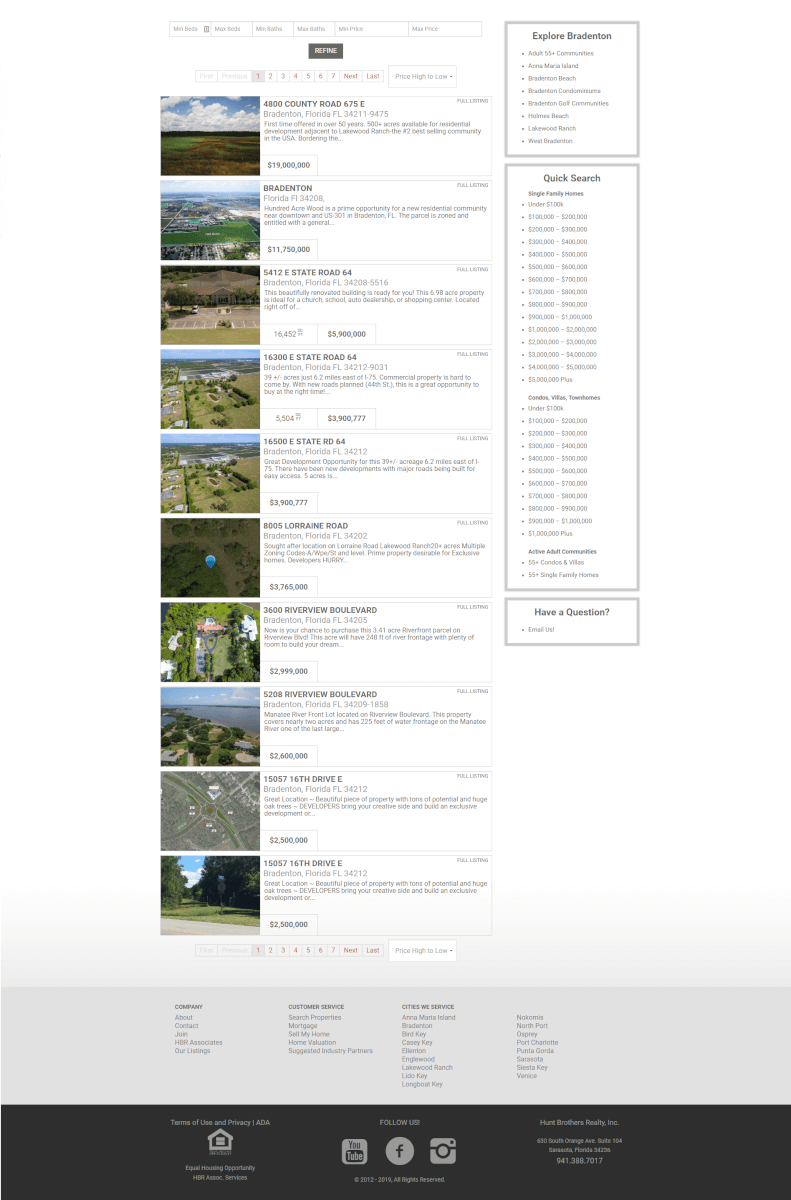 We also wanted to take a look at Dream Life Realty, who has been building out more content for their site with a growing interest in marketing and increasing traffic.
One interesting page they're creating includes a vast array of listings in drop-down menus that are sorted by cities, making it easier to sort through an area of listings on the page while organizing all of the pertinent information.
Watch this video to see more about how Dream Life Realty is making this work:
Google is looking for original content, and potential leads are looking for interesting, fresh content. This includes everything from regularly posting on a blog for your site, to the descriptions for communities and connections between pages to keep traffic on your site.
The most attractive aspect of content marketing in the current world crisis is how it can be done entirely from home. Having extra time just means an extra opportunity to give some attention and care to your website using IDX Broker and WordPress.
At RealtyCandy, we are also a 100% virtual business, so our team already works from all over the world, and will continue working normally while following the CDC recommendations to stay home and practice social distancing during this sensitive time.
In this video, see some of our favorite methods to advance your content marketing for any real estate website: