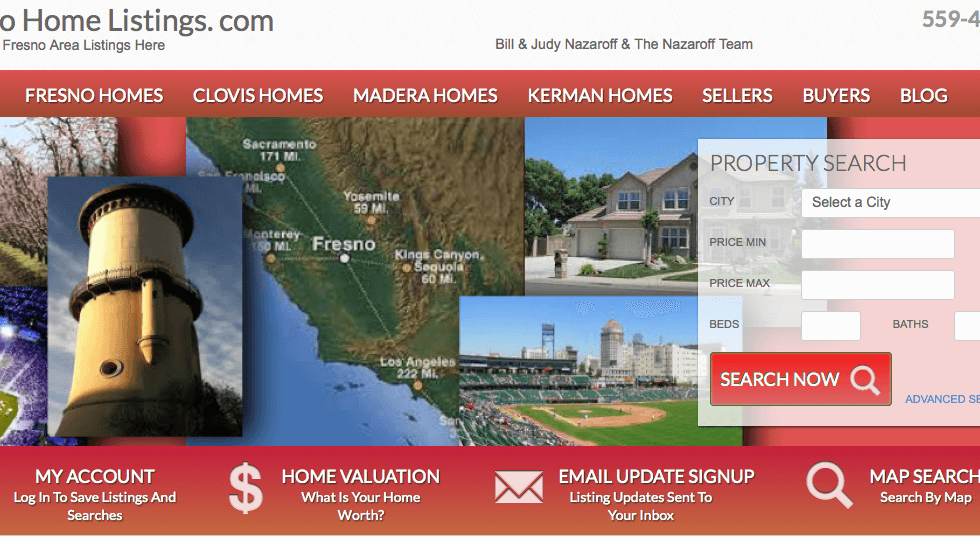 Fresno stands among the most beautiful, hospitable and family friendly communities in the great state of California. Perhaps it's fitting, then, that Fresno Home Listings.Com–the site that showcases the real estate offerings of Realtors Bill and Judy Nazaroff and the Nazaroff Team–stands among the most attractive and user friendly on the web.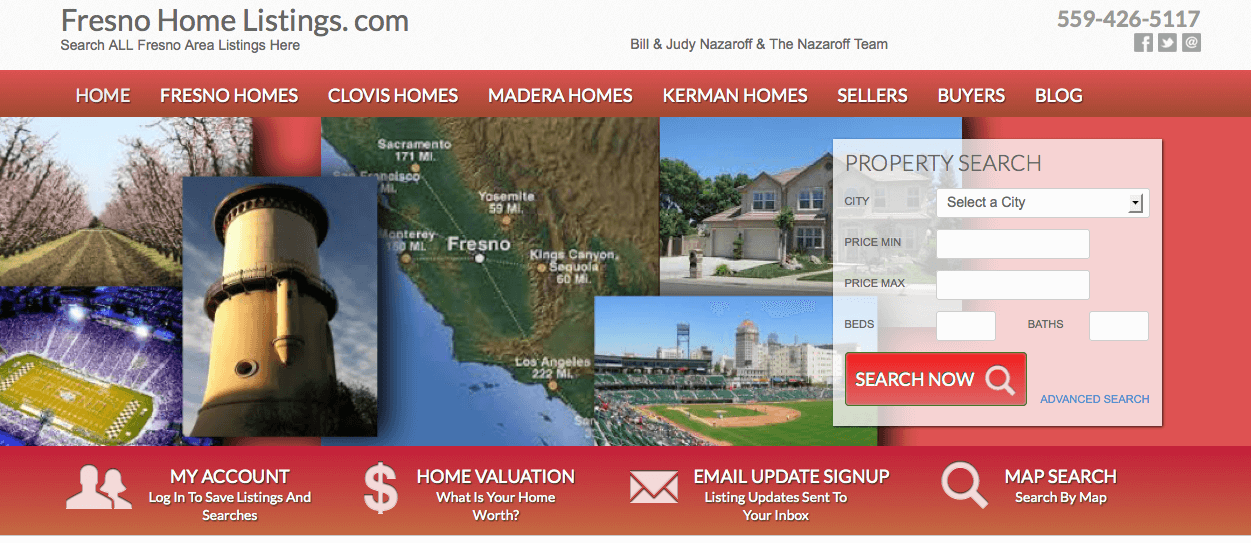 This informative, eye-catching showcase of Fresno Real Estate was designed by RealtyCandy with WordPress and mobile responsive IDX Broker Platinum. Created with the aid of RealtyCandy's classic Turnkey theme, Fresno Home Listings presents a vivid array of striking visuals that show off this community and the Nazaroffs' listings to glorious effect.
And once guests are sufficiently inspired by the crisp, sharp visuals, they can search for the Fresno home of their dreams using a variety of diverse search criteria. They can search specifically for homes within their price range in Fresno, Clovis and Madera, also searching by the number of bedrooms and bathrooms desired. They also can facilitate their search with the aid of handy interactive maps.
Once these easy searches help them access their desired listings, guests can uncover all pertinent information about each home, including number of bedrooms and bathrooms, square footage, address, price, and amenities.
Beyond home searches, guests also benefit from a bounty of relevant information offered at Fresno Home Listings.Com. They can read helpful articles about subjects that range from the current state of the real estate market to the Fresno housing market in particular; access special info for buyers and sellers; find out the value of their homes and sign up for e-mail updates; read a frequently updated agency blog; and find contact and social media info for the Nazaroff Team.
Nobody says no to Fresno–and when you're ready to find the home of your dreams in this beautiful California city, RealtyCandy (www.staging.realtycandy.com) and Fresno Home Listings are here to help.