The Way to San Jose Homes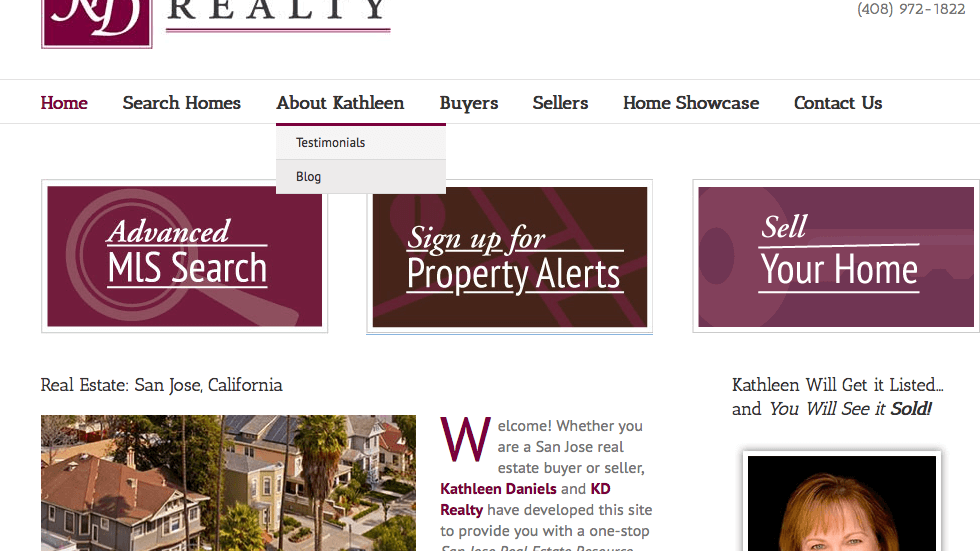 San Jose easily ranks among the brightest, busiest, most glamorous and most productive cities in the great state of California; and that's saying something! And San Jose Homes, the website of superstar Realtor Kathleen Daniels, is a site that both caters to and mirrors the communities it serves.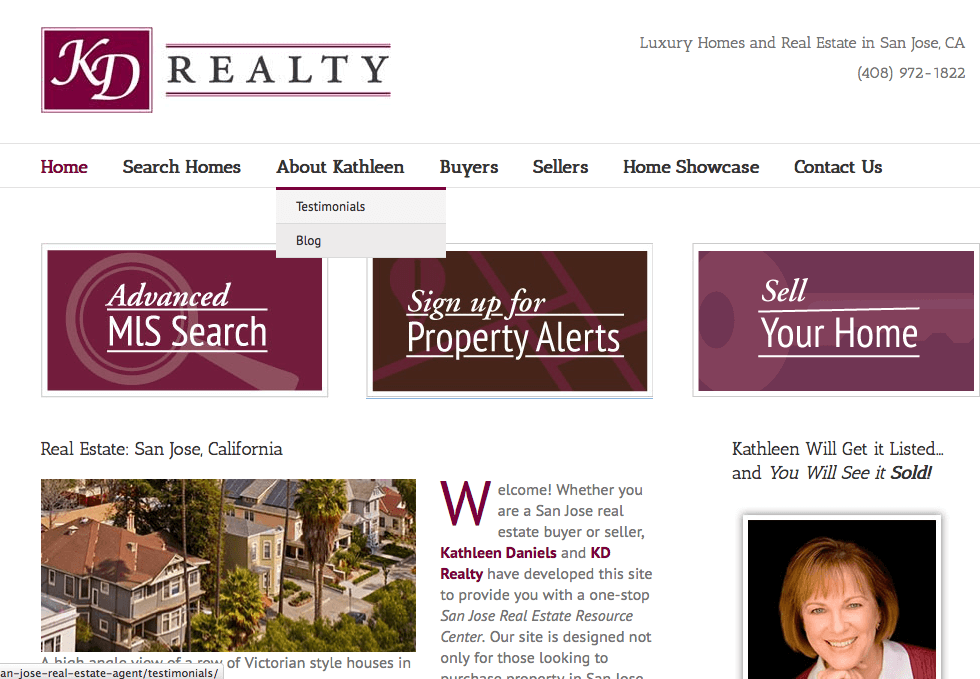 Much like those world-renowned commerce centers of Silicon Valley and Cupertino, there's always something going on at www.exclusivesanjosehomes.com–showcasing real estate with Kathleen Daniels. Designed through a WordPress migration update from IDX Broker Original to IDX Broker Platinum, this site exists as a convenient, user friendly tool for anyone seeking a 'way to San Jose'—not to mention the home of their dreams in sunny California. A prominent and easy to use search engine allows you to seek a home by price, city, and number of bedrooms and bathrooms desired. You also can use an interactive, on site map to find the listings that appeal to you, saving and keeping track of all searches as you go. Ah, but what if you're not yet all that familiar with the region of San Jose and its many wonderful facets? Well luckily this website also comes complete with clickable city showcases; each of which accesses a full page of photos and information about areas that range from Silicon Valley to Silver Creek to Los Altos—including some spotlights of homes currently available in each city, also easily accessed through IDX Broker widgets. The site also offers Featured Home widgets that showcase residences currently up for sale; as well as handy informational sections that can help you assess the value of your home, buy and sell, sign up for a site account and property alerts, read customer testimonials, and find out more about Kathleen Daniels–everything from her bio and contact info to the contents of her frequently updated, award-winning blog. And you even can check the current weather conditions in good ol' San Jose. Amazingly, all of this information is presented in a way that is streamlined, well-organized, professional, and downright beautiful—just like the city of San Jose.