Do you have a GHL website or use GHL as your CRM?
RealtyCandy can integrate IDX Broker into any website!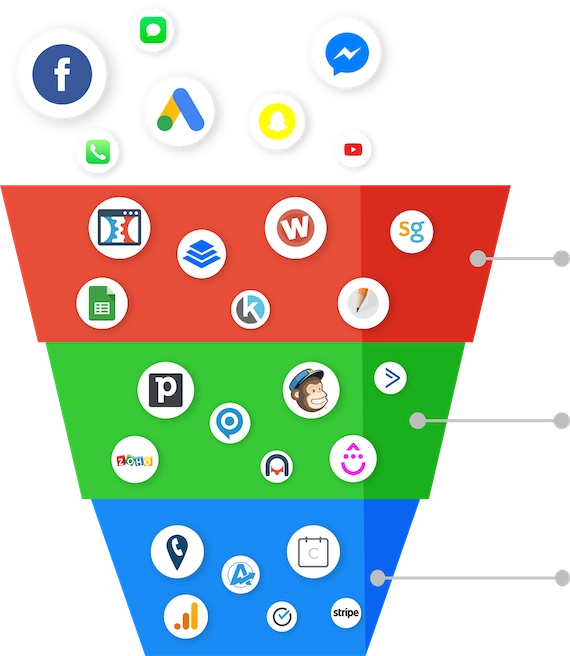 With GoHighLevel, a powerful CRM software, real estate professionals can manage their leads, schedule appointments, and automate follow-up tasks, all from a single platform. From lead capture to lead nurture, GoHighLevel offers a streamlined approach to managing leads and improving conversions.
By using GHL, these RealtyCandy partners offer a comprehensive suite of services that helps real estate professionals manage their day-to-day business activities:
Engage+ is a company that provides solutions for real estate professionals to enhance their online presence.
They specialize in creating engaging websites, lead generation, and marketing tools to help real estate agents grow their businesses.
We recently had Bo Ray, founder of Engage+, talk to RealtyCandy's founder about the features Go HighLevel has that convinced them to use it exclusively. They've been able to integrate their Facebook Messenger, Google Business Messages, SMS texts, phone calls, and more in a single platform.
Automatic nurturing campaigns help realtors maintain constant contact with their leads from different platforms without dedicating a lot of time to it. Agencies get complete control over how they want their leads to be managed.
Check out the full video above to hear the complete conversation. Or, check out his website at the button below.
William Grader has built multiple companies that drive success for agents and agency owners.
His main brands are Leads To ROI, Be Known Advertising, and SaaS Coaching Academy. With Leads To ROI, William and his team partner with us to create websites using a variety of platforms integrated with GHL.
William's team has worked with thousands of real estate agents around the nation and has built an amazing system that competes with kvCORE and other big-box CRMs.
We spoke with him here to discuss how we partner with him to integrate IDX Broker into his clients' websites, and how having your own white-labeled CRM instead can change your business.
Check out the video above to hear the whole conversation. Or, check out his website at the button below.
What sets GoHighLevel apart from other platforms like KVCore and Chime is its ease of use and customizable features. Real estate professionals can tailor the platform to fit their unique needs and preferences.
This means that the platform can be white-labeled to make it your own. Your clients will see your brand, down to the URL. This also includes automating tasks, creating custom workflows, and integrating with other tools and services.
Additionally, GoHighLevel offers excellent customer support, ensuring that real estate professionals can get the help they need whenever they need it. 
Why is Using GoHighLevel with RealtyCandy Better?
IDXBroker integration by RealtyCandy is an added bonus with any GoHighLevel partnership. IDXBroker is a leading platform for real estate professionals that allows them to display MLS listings on their websites.
Through GHL and RealtyCandy, real estate agents can offer their clients a seamless online experience. They can search for properties, save their favorite listings, and receive email alerts when new listings become available. GHL can help you track that information and create automatic workflows to keep leads engaged.
This integration saves real estate agents time and money by eliminating the need to manually update listings on their websites. RealtyCandy also allows them to customize the widgets displayed on the real estate sites that they built out.
With our GHL partnerships, RealtyCandy is able to take care of the IDXBroker aspects of the business while GoHighLevel automates your lead nurturing.
Check out the video below to see a few RealtyCandy sites using GoHighLevel. Some of them are actually built on that platform* and some of them are just using their CRM.
*Brokers can use the GHL platform even if they build out their site on another platform.
Check out our clients' websites.
Take a look at these clients' websites and see how GoHighLevel can make your website stand out, without you having to spend too much time working.