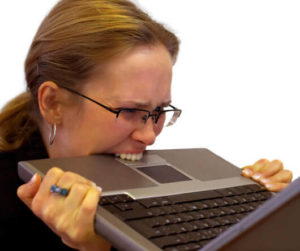 I have a client who I do quite a bit of work for who decided to take things into his own hands on a new project. He wrote me a short email asking me to get a domain setup and install WordPress for him. He would take it from there.
To protect the innocent we will call him John*.
Here are a few emails we exchanged after the site was setup:
Here is what you need to login and get started yourrealestatedomain.com/wp-admin user:john password: bogus123password. It is installed and the documentation can be found here: bogusthemeinstalldocumentation.com -James
I love his reaction before starting:
Awesome James!
I went to sleep.  These are the emails that he sent while I rested:
James,

Just looked at it and there are no pages or tabs like the sample site? Am I seeing this correct or is there a glitch? I was hoping it would look like the theme so I can just replace stuff…Am I missing something here?
I wrote back:
Nope.  That is the way most themes come out of the box.  They sell you a built out demo, then you open and get a bunch of screws and odd shaped lumber.
John responded:
Haha! I did get it almost looking like the demo…more like the short bus version of it…. Yes it would be great if you could get it the rest of the way there. I really want to know why my logo keeps being resized when I put it in. But that would be great if you could do that.

Thanks!!!
I could see he needed some help so I wrote back:
Ok. I will take a look.
John wrote a couple more emails:
I figured some of it out but I can't get my logo to show up correctly, it keeps changing its size. Can you help me with this its driving me nuts! I have a meeting on Friday for this site but I can't move on until I fix that. Everything else is pretty straight forward so I should only have  a few more questions.

Talk to you soon!
About 1 0r 2 am he wrote:
I hate doing this…I am not a web developer or designer…I'm a project manager! Please Help!
FIXING THE SUBURBAN LIKE A WEBSITE
I actually had a similar situation a few weeks ago.  I think I am an amateur mechanic.
 I was getting ready to take my family away from the world of Real Estate websites and IDX to a beach in Northern Mexico, and my air conditioning in my Suburban needed a small plastic part replaced.  I went to the dealer and paid $60 for the part.
The guy at the parts counter asked me if I knew how to replace it.  I told him that I had looked up some info on the internet, and it looked like I needed to pull the dash off.  He just smiled and let me go.
A buddy and I spent about 4 hours trying to get the dashboard off of my Suburban and we didn't get very far.  So he had a friend  who is a Master Tech.  We took it to the friend who told me he would charge $300 to do it.  I was delighted to pay him.
I knew that to tear my family's travel vehicle apart and try to get it all back together, pull the steering wheel, center console, heater core, and the refrigerant from the A/C was just way beyond my skill set.  This guy almost felt guilty charging me $300 and threw in some extra fixing up, because it went so fast for him.
I figured that it would have taken me about 50 hours to do the same job and then I still would have had things kind of "monkey-ed" up and I would have electrical or other problems down the road.
LET US BUILD YOUR WORDPRESS AGENTPRESS IDX BROKER WEBSITE
The point of this whole thing is that we can't all be good at doing all things.  I can setup my client's
WordPress site
and move his domain and the whole works in less than an hour.  I can go in and install and configure plugins, add logos, contact info, and even get some social media or YouTube stuff setup, by the time the clock runs down to 2 hours.
It would take my client days to get the same work done.
I had a gentleman contact me this weekend who wanted me to setup his
AgentPress
site.  He wanted to pay $25 to have us build out the demo.  He didn't know that one of the moderators of the forums at the AgentPress forum, a developer who is closely related to
AgentPress
stated that it took this developer about 4 hours t
o build out the AgentPress demo
like the RogersCommercial.com
I imagine that if this Realtor who contacted me were to build it out, he will literally spend 20 hours or more to do it.  I guess if he isn't selling real estate, then he might enjoy it.
Let us help you take care of your Real Estate Website.  If you are with RE/MAX, Prudential, Keller Williams, or someone else, we do
IDX Broker integrations
to add IDX to your website.  We have great rates and we can really crank out a ton of work.  I promise you will get your money's worth.  Here are a few
testimonials
.
Thanks,
James
Just fill out the form below and I will respond back or shoot me an email at jim @ staging.realtycandy.com
*Name may be changed to protect identity