Website: VentureNM.com
Agents: Travis Thom
Location: Albuquerque NM
Niche: Albuquerque Luxury Real Estate
Time to Develop: 20-30 days
Cost to Develop:$2500 – $5000

---

Favorite Features: Southwest Appeal, Custom IDX Broker Integration, Images and Colors, Marketing
---
We have had some great response with our series of Real Estate Website of the Week. From WarnockRealEstate.com to TheJills.com, this series of great real estate WordPress websites have given our visitors some great ideas for creating their own real estate websites.
This week, let me present VentureNM.com
I love the Southwest and especially adobe homes. I took a class a few years ago where I learned from some master craftsmen about building arches, domes, and vaults with adobe. So, when I saw the colorful designs and images on VentureNM.com, I was in love.
Home Page
Starting with the home page or landing page. VentureNM.com makes it very clear to the visitor that this is all about Albuquerque. The colors and images are vibrant and bring a great Southwest flavor to the site.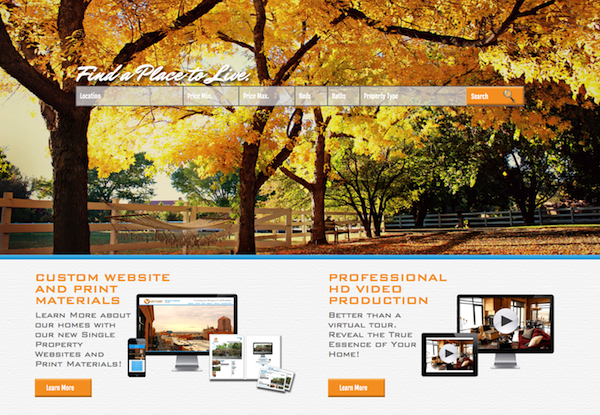 When I first saw the site, I loved the horizontal search bar. Most IDX Broker search forms I have seen are vertical, so this custom, horizontal, IDX Broker Platinum search form is a great visual pleaser.
Marketing
The content on the VentureNM.com site is presented a little differently than a lot of other luxury real estate websites that I have seen. These folks are focusing on their marketing prowess.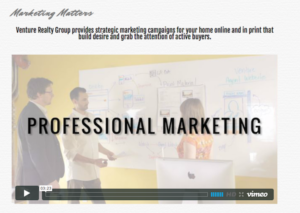 The video shows the great attention to detail they provide with sellers to showcase the home using the internet, print, and outdoor marketing.
The Team
This is not a stuffy group of guys in suits. I love how the team is shown in a very informal, friendly, approachable style. Each person is holding something that identifies a passion of theirs.
From a volleyball to a camera, you get some idea of their interests. That helps me as a prospective client know upfront if these are the kind of people I want to work with.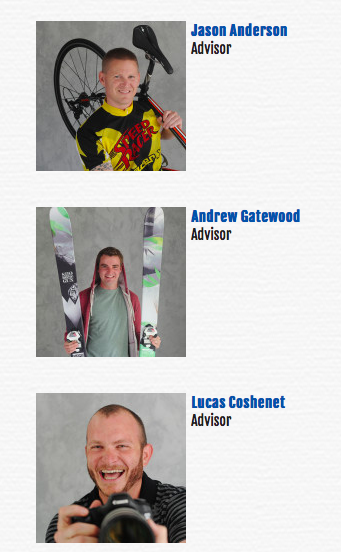 If you are the type of person who likes formality and $2500 suits, then from this real estate website, you know right from the get-go that you are at the wrong place.
This may seem counter-intuitive, but this immediate identity clarification makes life easier on the VentureNM.com team, because their website visitors know what to expect.
IDX Broker Search
This is one of my favorite parts of the website! Of course since we are IDX Broker Developer Partners, we love IDX Broker Platinum installs done right!
The IDX Broker search forms were designed to look great on the desktop and still allow for mobile responsive property searches.
The tabs and borders are all nice style elements which make the customers know that the VentureNM.com team knows about design.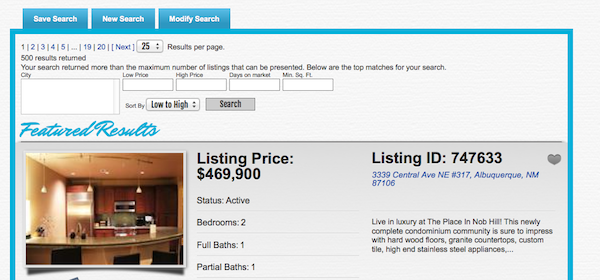 The property details pages on IDX Broker have also been styled with beautiful shadow boxes under the main photo, a great info grid at the top with all the key details about the property, and highlights for the most important property features.
You can get a custom IDX Broker Platinum install like this on your site.
See more images from the site in the slider below.
Contact us to get started on your luxury WordPress real estate website today!
This slideshow requires JavaScript.
Real Estate Website of the Week is our way of showcasing and reviewing some of the really great real estate websites.
We want to show our visitors and clients what can be done with a great real estate website.
These are not your standard cheap and easy real estate WordPress sites, but a project that has a lot of planning, thought, design, IDX Broker goodness, and just an all-around great look.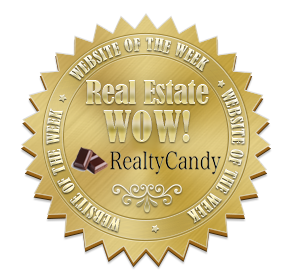 We have put price ranges on these websites to give you an idea of what it takes to do a project like this. Some include great professional photography, design work, or even many hours of styling and customizations.
Most of them also have great content. It takes a lot of time and unless you are a real estate writer, you need a budget to get good real estate content that is interesting and original for your site.
If you have a site, or have run into one that you think we should showcase or review, shoot us an email using the contact information in our footer.
* Disclaimer & Legalese: RealtyCandy.com is not affiliated with, nor has it been authorized, sponsored, or otherwise approved by VentureNM.com.