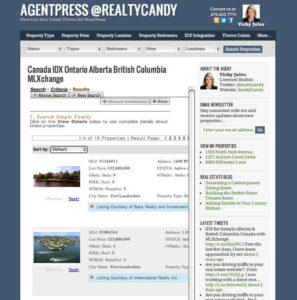 I posted an article about how agents in Ontario, Alberta, and British Columbia Canada can embed their MLXchange search into their WordPress website and use MLXchange as their IDX.
While we like using IDX broker or RealtyPlug better, this is an option for agents who  want to integrate some MLS search into an AgentPress or Elegant Estate website without shelling out any extra IDX money.
This article had great reception among our Northern Realtors, and we have been asked "What about all the MLXchange users in the US"? Will this work for them to connect MLXchange with their WordPress site?
The answer is "YES"!
We can do the MLXchange integration like this for you, or you can even do it yourself.
We setup two demo pages.  The first shows MLXchange search embedded with a side bar.  The second, has MLX change integrated into the WordPress page without a sidebar.  (This one probably needs more info on the page before the MLXchange search info)
Of course our recommendation is that you look at one of our AgentPress sites.  Get the whole thing installed looking like our demo here.  We will add in the MLXchange integration at no charge.  That's right FREE MLX change MLS search integration for those who want it.
So if you are a Realtor or a broker in Broward FL, Las Vegas NV, El Paso TX, Miami Florida, Vancouver BC, or anywhere MLXchange has service, we can set this IDX alternative up for you.
Take a look at our "Chocolate Fudge" package and sign up today, shoot us an email, or call us to setup an appointment.  Get one of our Famous AgentPress demo sites setup just like RogersCommercial.com in about an hour today!
Click here to go to the store and see all of our options.