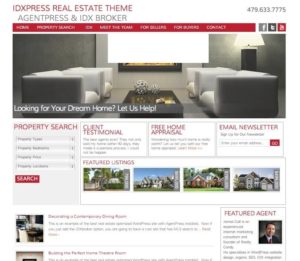 PinnacleHillsHomes.com has our newest AgentPress IDX integration-ready theme demo.  We call it IDXPress.
This theme uses AgentPress plugins from Genesis to provide a perfect site for home builders, real estate offices, and individual realtors and brokers.  IDXPress has five different color options, widgetized home page, configurable slider, multiple sidebars, call to action boxes, feedburner integration.
We set this up so that each property can have a different listing agent, and when you pull open any property, the sidebar will display the listing agent's information.  The ability to show the listing agent's contact info is a huge plus for a brokerage who wants to keep all of their agents happy!
It is easy to integrate with IDX broker Platinum or any other MLS search solution you use.  IDXPress even works great for offices in Canada, Mexico, and other areas where the IDX options of the MLS are not developed.
We will include IDXbroker integration into this theme for you or your entire real estate office.
Built on the Genesis framework, you get all the flexibility you need to use widgets to change the look and feel of your site.  This theme has been optimized to get you the best SEO.
Click to see this new WordPress and IDX real estate theme at PinnacleHillsHomes.com
To get this site setup for you within 2 business days for just $495 plus $59 monthly with IDXbroker, hosting, and domain name renewals included, just click here to go to our real estate website store and select "Pecan Fudge".