IDX Broker Map Search Templates:
Searches by map can be even more powerful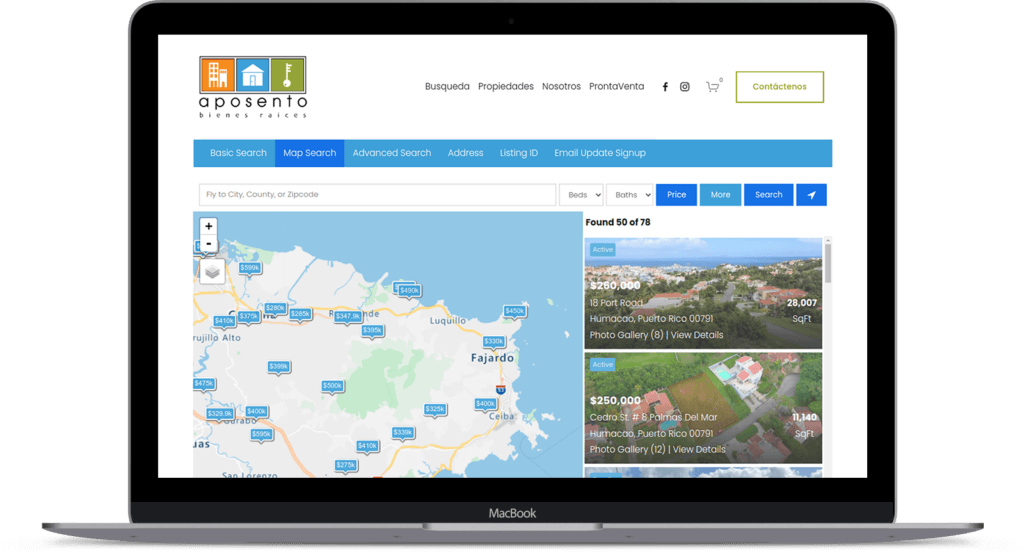 IDX Map Search Page
On this page, users can search for homes using a map, but IDX Broker available templates show the map only with the pins. With our templates, you can make full use of this page, by allowing your users to see the listings while searching on the map.
You can also use Google Maps instead of the default IDX Broker map with our IDX Maps to Google Maps addon. All you need is a Google Maps API Key for this.
You can also add a Map Search widget on any page of your website with our Google Map Widget addon.
Templates forMap Search Page
With RealtyCandy map templates, you can have listings displayed in your map search! Now, your leads will be able to scroll down a list of listings and see the properties photos and location at the same time.
FAQ: Frequently Asked Questions
Do you have a question about IDX Broker or RealtyCandy services? Are you wondering how to use our IDX Addons? Have any questions about what we could do for your real estate site? You're not alone, but we have the answers.
Here are the most frequently asked questions we receive. Please contact us if you don't see your question here.
To get any of our premium templates for your IDX pages, all you have to do is to make us your IDX Broker developer. This process is fast and FREE.
Just send an email to IDX Broker that says you'd like to use Realty Candy as your developer or sign up for your IDX Broker account using our sign-up form.
Your payments with IDX Broker will continue as they are, directly to IDX Broker. You will also have access to IDXAddons.com at no charge.
Contact us here if you have any questions about this process!