IDX Broker Platinum is now in Williamsburg.  RealtyCandy would like to announce the latest addition to the growing network of real estate agents and brokers updating their websites with IDX Broker Platinum software: John Womeldorf.
In offering his top rated service, Womeldorf has enlisted a customizable IDX solution to sync his website with the Williamsburg Area Association of Realtors (WAAR), allowing him to display thousands of Williamsburg, James City County, Upper York County, Yorktown and some Charles City and New Kent Counties properties conveniently and seamlessly on his website. The dynamic IDX solution he now employs gives Womeldorf and his clients more access than ever before to the immense WAAR database of property listings.
IDX Broker Platinum in Williamsburg
With such ease and availability, home seekers can quickly utilize the tools Womeldorf supplies to them on his IDX Broker Platinum website. These features allow potential buyers to create their own search and erect search parameters to quickly pair buyers with properties. Womeldorf has given his clients and other home seekers who use his website the unique ability to access WAAR listings as though they are real estate professionals themselves. Never before has a revolutionary technology like IDX Broker Platinum software given home seekers such in-depth and useful tools to give them control over their online property search.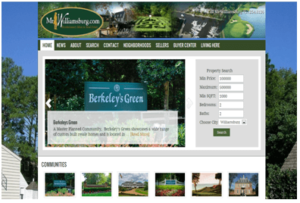 Thanks to the IDX Broker Platinum -enabled site hosted by Womeldorf, this once complicated process of finding a home online is now so much easier.  With his unique mix of personal professional integrity and access to WAAR listings, Womeldorf and his website should be the first stop of any home seeker in Williamsburg. He has even changed the way he manages his website; with a behind-the-scenes login page he can access his clients and their saved searches, a client lead generation system and even the tools to customize the layout, design and functionality of his website.
The days of sorting through endless WAAR listing data and trending reports are gone for Womeldorf, thanks to his custom IDX Broker Platinum solution.
About John Womeldorf
John Womeldorf, affectionately known as "Mr. Williamsburg" is a highly successful and well respected real estate agent with Liz Moore & Associates in Williamsburg VA.
About IDX Broker Platinum and RealtyCandy.com
RealtyCandy, specializes in IDX Broker Platinum integration to AgentPress real estate websites.  As a developer partner of IDX Broker, RealtyCandy can help you with everything from a standard install to creating custom CSS, Landing and Showcase pages, Widgets and Slideshows.  Another major solution is that it has the ability to help you leverage the IDX Broker Platinum Mobile App from IDX Broker "Classic" and the new HTML5 mobile ready IDX for iPad and tablets.  For more information on the services and solutions provided by RealtyCandy, please visit RealtyCandy.com.
You can signup for IDX Broker Platinum for your real estate website by clicking here.