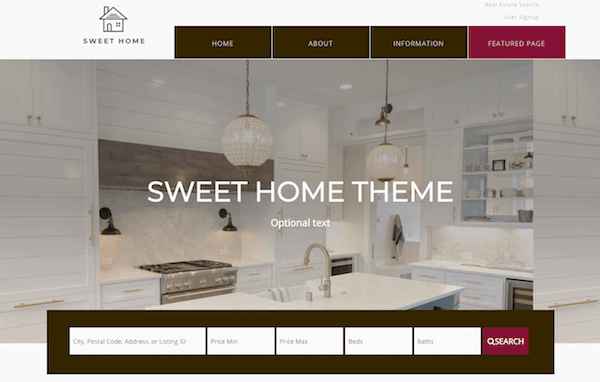 We are excited to announce our new high-performance WordPress themes that are built for high-performance real estate professionals.
Home real estate themes for our LeaderCRM Clients
For the last months, we have been thoughtfully looking at what our clients need in a great theme for WordPress. Realtors and brokers are looking for a great site that is fast on a browser and fast to setup.
The solution is our new series of free WordPress themes simply called "Home" themes.
Home themes are designed to be easy to use and have very modern styling.
IDX Broker integration
One of the most important things for us is the IDX Broker integration. Most visitors to a real estate website are looking for one thing: LISTINGS!!!
There isn't a better way out there to quickly and easily put all of the listings in your MLS or several MLS's on your website than using IDX Broker.
The Home real estate themes include great styling for your IDX Broker widgets. Your showcase widget, your carousel widget and your slideshow widgets will all be styled attractively to give your site an edge in your market.
Signup here to get IDX Broker and IDX will waive their $99 account setup fee.
Benefits
If you are a Realtor looking to build your first website, or you have an office and you want to build a new real estate website you will love all of the benefits of the Home real estate themes.
Pricing
The first benefit is the fact that you can get it for free. This isn't free for a while, but really free. No trial period.
We think that by providing these themes for free, we can help our clients quickly get their site up and running.
Fast
There are two kinds of fast in the WordPress world. The first is browser speed and the second is speed to setup the site and get it out to the world.
Browser Speed
We built the Home series of real estate WordPress themes to use the most modern and fastest technologies to provide a great high-performance foundation to any website.
We also put in CSS and javascript code that is optimized to make the sites load fast.
The third thing we did to get fast browser speed for our themes is to put in image optimizing tools from TinyPNG to make your images load quickly and eliminate the number one problem in site speed issues.
Setup Speed
We all know that when you get a new Apple device, part of the enchantment is that you pull it out of the box and the battery is charged, and it works. You can start using it right now.
We have an install guide that makes it easy to see how to get your logo, your color scheme, your contact information, menus and more setup in about 30 minutes.
While some people will have better speeds than others based on their experience and skill levels, we hope that most agents can get their site put together in about 30 to 60 minutes. That isn't 60 days or 30 weeks, but less than one hour to get your site up and running.
Easy Changes
You want to be able to change the colors, the logo, the branding of your site, so we loaded these features into our customizer tool for the Home real estate WordPress themes.
You can hop on the customizer and see in real time what the colors will look like before you actually save the changes to your site.
It is fast and easy!
Content Included
Most of us need a quick start on a new adventure, so we loaded several pages of content that you can modify with your information or even tweak the wording for your market, and you are off!
High-performance again.
You can add unlimited tabs or menu items, but we have included content for the first ones to get you off on the right foot and a quick start.
Features
This is the technical stuff, so if you aren't kind of geeky, you better just skip to the next part.
We built these new real estate themes using world-class WordPress tools.
Bootstrap - for mobile responsiveness and speed
Font Awesome - with over 600 great icons
Built-in Slider - based on Owl Carousel 2
Child theme - you make changes that stay after updates
Jetpack ready - use all the goodies from Automattic
Options panel - quickly configure your settings and go!
Support and Training
You get free access to our Setup Guide and to our Developers Guide.
The theme Setup Guide is written in (what we consider) easy language with lots of photos to show you how to setup and configure your new high-performance website.
The Developers Guide is for folks who want a little more of the nitty-gritty and more of the technical information.
We also will provide email support at no charge for our clients and if you need priority support, we can set that up as a paid service for you.
Hosted Version
Not everyone has the extra time to setup a site, and make sure that the updates are getting done, the plugins are current, backups are done and security is in place.
If you want us to host and manage your WordPress site for your as one of our Foundation websites, you can have get that too.  Just visit the Foundation page or click here to signup.
We host it on our lightning fast server just like the demo.
We host and manage your site, for just $199 setup and $39 per month which includes:
hosting on our server including

Daily backups
Updates to WordPress and Plugins
Security scans
Free SSL certificate for https://

setting up the IDX to the site
setting up the site like the demo
setting up the added tools like:

Beaver Builder Page Builder
Speedy Widgets Add-on
Included IDX customization
Why Free?
One of the questions we get is "Why is this real estate theme free when so many WordPress themes cost $39, $59 or $79?"
Our goal is to follow the example of the folks at Automattic, who made WordPress in the first place.
We feel that if we can get these free Home themes for WordPress into the hands of enough Realtors and brokers who have a great experience, that a few of them will want to use our IDX Addons or have us host and manage their site for them.
We also see many people come to us who have purchased a real estate theme or a theme and a framework somewhere else and they can't get it working well with their IDX Broker pages, their IDX Broker widgets, or some other part of IDX.
Our Home themes were designed from the ground up to work great with IDX Broker.
Demo
You can take the theme for a quick spin and see how it looks here:
Where can I get it?
If you want to download the Sweet Home real estate theme and set it up on your site visit:
https://app.leadercrm.com/settings/download/themes
If you would like us to setup Sweet Home real estate theme for you and host it, you can signup here: Buy with RealtyCandy Hosting
When we host and manage your site, there is a $199 setup plus $39 per month which includes:
setting up the IDX to the site
setting up the site like the demo
setting up the added tools like:

Beaver Builder Page Builder
Speedy Widgets Add-on
Included IDX customization
What if I am not a RealtyCandy IDX client and I want to use the theme or I want to become your client for free?
Just reach out to us on our contact us page and we will help you get LeaderCRM and the themes for free.
(If you have a great IDX developer or for any other reason don't want to use RealtyCandy, don't fret.  In a couple of months, after our clients have had a chance to get setup and going, we will release the theme to anyone with a public download)
When is the next one going to be ready?
What? We barely launched the first one!
Seriously, we plan to have the next theme ready for March 1st.  You will see it on your LeaderCRM dashboard.