Clean Mobile responsive real estate theme is one of our new mobile responsive WordPress themes built using the Genesis framework and integrated with AgentPress functionality.  Check out Clean Mobile responsive theme demo on your mobile device by visiting http://bit.ly/clnmobile or clicking on any of the images below: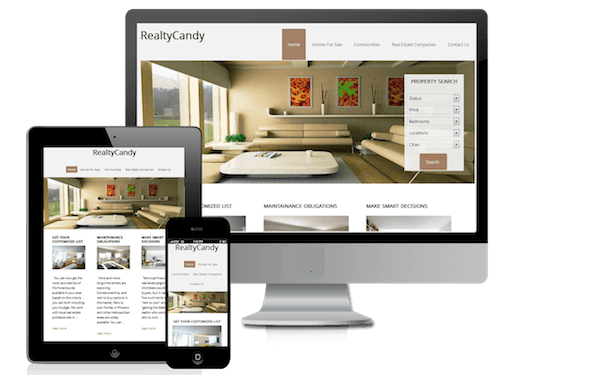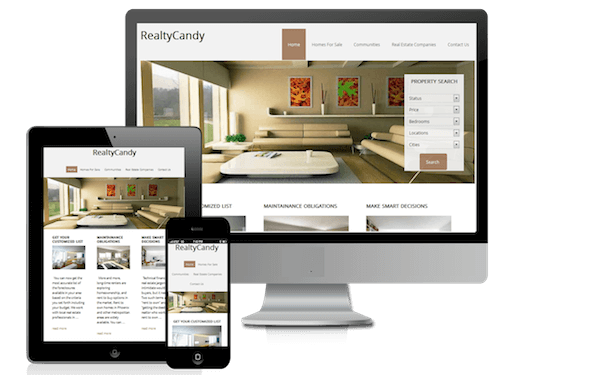 Optimized for IDX Broker and Diverse Solutions
This new Clean Mobile responsive theme is already optimized for IDX Broker Platinum for Mobile and Diverse Solutions IDX (DS IDX) right out of the box.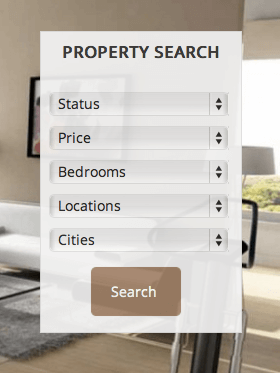 We can quickly add the IDX search boxes that your clients need to find their new home purchase.  We also have the menus setup to add IDX searches by community or city.  Signup now IDX Broker Platinum for Clean Mobile responsive theme.
Optimized for Mobile
We are convinced that the Best Real Estate WordPress Themes for 2013 and beyond are going to be setup to use the 100 million iPad and iPad mini tablets that have already been sold. These new themes like Clean Mobile responsive are going to look great on iPhones and Android devices alike. Take a look at Responsive.RealtyCandy.com to see how your site looks on mobile.
Optimized for your Real Estate Office
Do you have an office of Realtors? Do you need "Featured Agent" settings and "Agent Roster" pages?  With our office setup and Clean Mobile responsive theme, we can provide a custom subdomain for each agent in your office like KarenSmith.yourcompany.com or even Communityname.yourcompany.com.  We also provide an email address for each of your agents.  This is the whole meal deal!  Build a lead generation website for your brokerage or real estate office using Clean Mobile Responsive theme today.
Optimized to be simple and easy
Clean Mobile responsive theme is designed to allow you to quickly add new images, new YouTube videos, and new information for your clients.  We want you to be able to put new content, approve comments, and setup newsletters on your site without needing us to be your real estate web-masters.
Optimized for SEO – Search Engine Optimization
Google first page rank is the life of the Internet.  When we talk about Clean Mobile responsive theme having cool SEO tools, we are really talking about the famous Google Juice!  Great WordPress Plugins like SEOpressor and Yoast help us, help you get the real estate web traffic and the leads that you need to keep your business growing.
Optimized for Social Media
Your new Clean Mobile responsive theme is ready to rock in the social media world.  Your posts are setup to automatically post to your Facebook, Twitter, Linkedin, Tumblr, and Yahoo!  We can setup your site so that any new published content goes to all of these social networks. We can add Facebook comments to it like we did on SantaClaraTrails.com.  You will have sharing setup on each post and page.
Facebook integration for Clean Mobile responsive theme is tight! We have some great premium tools to build fangates and other great Facebook integration.  Keep your eyes out for an upcoming post about all the cool tools to truly make your website go Viral with Facebook.  (Post a comment below saying "Show me the Facebook tools!" and I will shoot you an email as soon as they are available.)
Clean Mobile responsive theme today!
Imagine having a great site that brings your business.  This is a Clean Mobile responsive theme site that looks great, has your logo, your picture, and your branding all over it!  We will do the initial setup within 1 business day of you signing up!  We can usually finish one of these sites within about 5 business days.  If you need to signup for IDX Broker Platinum, just click here!  We will get IDX Broker running on your site within 1 business day of IDX Broker activation of your account.

Get great support and service with your Clean Mobile responsive theme.